MUNDAKA, Spain (Sunday, Oct. 14, 2007) –What started as a dream became reality when defending champion Bobby Martinez (USA) became the first surfer in the history of the Billabong Pro Mundaka to post back to back victories at the reeling lefthander today.
"I had a dream that I won the event about a week ago," Martinez said. "I didn't even tell my fiancé Cleo, but I didn't want to wake up from the dream. It felt so real and now it has come true, it's just so weird how it all ended up. It's good to win an event wherever it is, but winning here last year and then winning here now… it's just brought back so many great memories."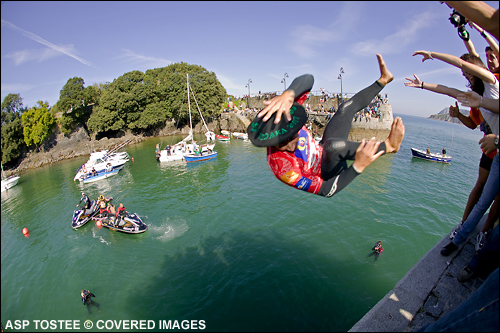 Martinez beat Foster's ASP World No. 3 Taj Burrow (AUS) in a closely fought Final to defend his Billabong Pro Mundaka title and post best result of the season. Burrow lost the final by less than three-tenths of a point, despite posting an excellent 9.33 (out of 10) wave score toward the end of the heat. Martinez bettered his low score by catching the set wave after Burrow's and the Australian was unable to answer back.
"Taj surfed really well, he got the best wave of the heat," Martinez said. "Thank goodness there was that wave that I caught right after his because it ended up being one of my better waves. When the announcers said he got a 9.0 something, I knew he had to have gone into the lead, but then my score was an 8.27 and the situation didn't change. I was just thinking the whole time, 'How much more time is left, let's get this thing over with!'
Martinez jumped from 13th to 6th on the Foster's ASP World Tour ratings with the win. Previous to his win today, the Californian had posted one 3rd, one 5th and five 17th place results on the 2007 tour. He finished World No. 5 last year to become the 2006 ASP Rookie of the Year.

"I was kind of nervous in France, questioning my re-qualification, so I was pretty stressed," Martinez said. "I didn't want this tour to end for me, so to come here and get a win I couldn't be happier. I can't be more thankful. Taj surfed really well, he got the best wave of the heat, I couldn't believe it that I won again. It's just crazy."
Burrow mentioned having a dream in which he won the event last week too, but unfortunately for the current World No. 3, a goofy-footed (right foot forward) Martinez crushed it today.
"That was tough, it actually felt totally unfair at first because Bobby was getting these waves from deep that I knew I couldn't make on my backhand," Burrow said. "They were just too small and too quick and he was flying through them. I was saying, 'I am doomed in this final, I can't do anything,' but then the tide came in a bit and the faces opened up a little. I got that 9.33 pretty late in the heat, and with my 6.83, I just needed a little bit more like a 7.0 something. It was pretty tight and frustrating really but Bobby was ripping, what I can I say."
Only eight of 10 events are factored into the Foster's ASP World Tour ratings at the end of the year and Burrow is dropping a 33rd and a 17th place result. If Burrow wins the next event or places one spot ahead of current ratings leader Mick Fanning (AUS), the World Title will be decided at the ASP season finale in Pipeline, Hawaii.
"I was planning on winning these next few events, but a 2nd is great for sure," Burrow said. "I made the Final and I'm on track. I'll just have to aim to win Brazil or at least place ahead of Mick and Kelly to keep in the picture. I am still there so that's the best thing. All I can work on is getting more and more keepers from here on out, it is an exciting race for sure."
Only Fanning, Burrow and 8X World Champion Kelly Slater (USA) remain in contention for the 2007 ASP World Title after the Billabong Pro Mundaka. Burrow beat Slater 14.00 to 4.93 in their second semifinal match-up of the year today. Burrow caught the best waves of the heat while Slater searched the lineup in vain.
"It's ironic because this contest has kept me in the World Title hunt, but I'm just really frustrated," Slater said. "Realistically, I need a win in Brazil and for Mick and Taj to get 5ths. Then I'd probably have to do the same thing again at Pipe. I can't win the World Title without winning at least one of the next two contests."
Slater did not attend the Foster's ASP World Tour event in Brazil last year, having already won the World Title in Mundaka, but he will have to win the event this year to stay in contention to win a 9th ASP World Crown.
"It's not impossible, it's still there for the taking," Slater said. "I've been in this situation a couple of times going into Pipeline and I was able to pull it out, but that was with one event to go and with an event that played well for me. With Taj and Mick both winning before in Brazil, it's probably not the best circumstance for me, but anything can happen."
Fanning is the defending champion in Brazil, the next and second to last event on the 2007 Foster's ASP World Tour. Burrow won the event the year prior. If Fanning repeats and wins in Brazil again, the 2007 ASP World Title is his.
"Brazil has been a really good event for me, so I still feel comfortable," Fanning said. "I have known from the beginning of the year that it would probably go down in Brazil, maybe even Hawaii, so I'm not worried. I've been in the race with a few events to go at certain times in my career, but I've never been in the position that I'm in right now. It feels good to be in this position."
Despite his Semifinal loss to Martinez today, Fanning knows that his equal 3rd place finish in Mundaka, earned right after a win in France, keeps him in strong contention for a maiden world crown.
"Yeah it's a great result," Fanning said. "I have a 17th to get rid of with two contests to go and these guys are keeping 9ths, so in the big picture it's still pretty good. It's been a good month so I'm still stoked."
The top five spots on the Foster's ASP ratings remained the same after event No. 8 of 10 on this year's tour. The next event in Brazil will begin on October 30th. `
The Billabong PRo Mundaka was then completed at the Left-Hand break of Mundaka, in clean 1m to 1,2m waves, with beautiful weather, and an enthusiatic crowd of spectators.
At the prize ceremony, Bobby Martinez takes the winner's trophy, but also the Nixon Tube Award (for the longest tube) and its 10 000$ watch with diamonds, rubises and emeralds.
Australian Josh Kerr takes the Kustom's prize for hte best manoeuvre (2000$).
And as usual, Bobby Martinez ended up carried by the members of the surf club, carried across the crowd to be thrown into the harbour!
The Billabong Pro was made possible with the support of the town and surf club of Mundaka, and Bakio, the Basque Government, the Basque Surfing Federation and Surf Rider Foundation. Thank you to all co-sponsors, Euskaltel, Euskadi Gaztea, Yamaha, Cobra Jetskis, Von Zipper, Nixon and Kustom. Thank you also to Coca-Cola and Café Baqué for their contribution.
BILLABONG PRO MUNDAKA FINAL RESULTS:
Final: Bobby Martinez (USA) 16.44 def. Taj Burrow (AUS) 16.16
BILLABONG PRO MUNDAKA SEMIFINAL RESULTS:
Heat 1: Bobby Martinez (USA) 14.17 def. Mick Fanning (AUS) 11.67
Heat 2: Taj Burrow (AUS) 14.00 def. Kelly Slater (USA) 4.93
Foster's ASP World Tour Ratings after Event No. 8 of 10, the Billabong Pro Mundaka:
1. Mick Fanning (AUS)                 7346 points – Top 5 ratings leaders remain the same
2. Kelly Slater (USA)                 6326 points
3. Taj Burrow (AUS)                 6275 points
4. Joel Parkinson (AUS)                  5505 points
5. Andy Irons (HAW)                 4966 points
6. Bobby Martinez (USA)         4582 points – Up 7 spots from 13th
7. Jeremy Flores (FRA)                 4580 points – Up one spot from 8th
8. Bede Durbidge (AUS)                 4424 points – Up one spot from 9th
9. Pancho Sullivan (HAW)         4287 points – Down three spots from 6th
10. Damien Hobgood (USA)         4274 points – Down three spots from 7th