La Caja De Canarias / Ocean & Earth Pro
ASP Men's 4 STAR World Qualifying Series (WQS) event
ASP Men's European Pro Surf Tour Stop # 11 of 13
Las Palmas, Gran Canaria – Canary Islands
Prizemoney US$ 75,000
8 – 14 October 2007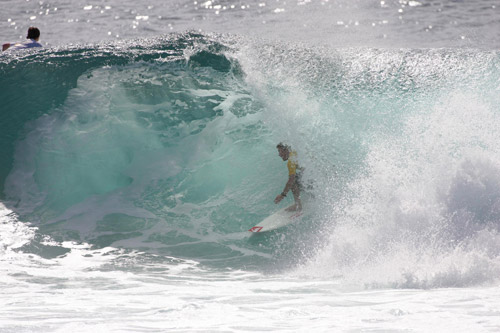 NIC MUSCROFT (AUS) WINS OCEAN & EARTH PRO 4 STAR WQS IN CANARY ISLANDS !
Nic Muscroft (Victoria,AUS) won the Caja De Canarias / Ocean & Earth Pro 4 Star World Qualifying Series event today at El Confital. Pocketing a US$ 10 000 prize for his first place and valuable 1500 points counting for the WQS ratings, Muscroft clinches his first title of the year and keeps all his hopes alive towards a possible Foster's ASP World Tour qualification.
"I'm just over the moon… My goal when i decided to come over was to make a second or a first and I got this title today in some of the best waves on tour. It's just perfect. I've chasing this improtant result since the start of the european leg and managed to be pretty consistent so I know this gets me closer to the qualification."

In an exciting exchange of high scores, the four men worked their wave choice hard, waiting for the bombs to secure the highest step of the podium. Nic Muscroft (AUS) waited no time to open the battle securing a 9.17 pointer and take the lead while Daniel Ross (AUS) stuck to second for more than half of the heat. Ousted to third by tahitian charger Michel Bourez (PYF), things got under pressure as an ultimate set came throwing solid 5 ft barrels into El Confital's arena, the crowd cheering each turns to eventually celebrate Muscroft's victory.
"The waves came for this last day and I knew the sets offered some great potential so patience paid in the end and I'm glad I got this last wave as Bourez kept pushing until the last seconds to get first place from me. I'm glad with the way I went through the week eventhough I got a few sketchy heats."
Coming second to Muscroft, Michel Bourez (PYF) ended very close to a second win at the Ocean & Earth Pro. Surfing in his thrid consecutive final [1st in 2005, 3rd in 2006, 2nd in 2007] Bourez showed once again he is the most consistent surfer on this bareling righthander.
"It was a tough one… I was lost as the tide changed the waves and the place to sit. I started not really confident then found this 9 pointer and started to regroup and chase first place. I struggled hard and tried up to the end with another last 7+ pts ride but Nic was just ahead."
Still chasing a possible qualification for next year's Foster's ASP World Tour, Bourez clinches 1313 points and will head to Lanzarote confident after this runner-up finish. Daniel Ross (AUS) finshes 3rd followed by local canarian Jonathan Gonzalez (CNY) who gets back into the race of the European Pro Surf ratings.
Current European Pro surf Tour leader and second best european on the WQS, Aritz Aranburu (EUK) couldn't make it further than the semifinals, finishing equal 7th of the Ocean & Earth Pro despite surfing the best heat of the event and posting 19.10 points to reach the semifinals.
"I had a great quarterfinal and thought it would keep coming to me in the semis. Michel was surfing very good, and was better than me in this one… Well I'm focused on each of the heats I surf and I always try the most I can on every wave so I'll keep up the good work for Lanzarote and hope to remain close to the Foster's ASP World Tour."
With his equal 7th result, Aritz Aranburu (EUK) remains on top of the European Pro Surf Tour hierarchy and could clinch his maiden regional title soon as only two events remain on the schedule.
After scoring the second best heat score of the event with 18.90 points out of possible 20, Leigh Sedley (AUS) was stopped in the semifinals getting an equal 5th place and US$ 2000 of prize. Lacking the waves in his semifinal, Sedley couldn't catch up and had to struggle against the two spanish surfers Jonathan Gonzalez (CNY) and Eneko Acero (EUK).
"Everyone except Jonathan was pretty close and only got one good wave so it wasn't a lot for me to make it… I'm bumped about that because the waves seemed to stop for the heat and got back on for semifinal #2… Well Still a very good event and a good result for me. I'm feeling good and I think my surfing matches well with the criteria so it is very important for confidence. I'll be trying hard to make another good one in Lanzarote."
Former European Pro Surf Tour champion Justin Mujica (PRT) was a shoker elimination in the quarters, falling to an onfire Aritz Aranburu (EUK) and top form tahitian Alain Riou (PYF). Leaving the water very disappointed with a 10.44 pts total, after an up and down year, Mujica confessed:
"I really wanted to go further in this event. I like the waves, I like the Canary Islands and the feeling is always very positive here but I just couldn't get the waves. I broke my board on the rocks after my second wave and had to remain focused but lost time. I'm already looking forward to Lanzarote but this event was great once again."
Surfing in the toughest quarterfinal against former champion Michel Bourez (PYF), Kieren Perrow (AUS) and Daniel Ross (AUS), Ryan Campbell (AUS) was eliminated despite some solid surfing, goign for off-the-lip re-entries on the critical sections of the waves, finishing with a two wave combined total of 12.24 points, still needing a combination of two waves to catch up with second Daniel Ross.
"This was a really hard heat, the guys got some bombs and i tried hard but couldn't find any good enough rides to counter Bourez or Ross. Kieren and I were stuck behind and i ended fourth, still happy to make the quarters. For my first trip to the Canary Islands, it's a good result and I hope the next event keeps me on this good roll."
Last South African of the event, Gavin Roberst (ZAF) hustled hard to get his semifinal ticket in quarterfinal #2 but had to accept Nic Muscroft's (AUS) domination ahead of european favourite Eneko Acero (EUK). Ranked 89th on the WQS ratings before the event, Roberts was still satisfied with his equal 13th place keeping him in the Top 100 to surf in the hawaiian events.
"I waited too much to get in that heat, i let go a a good wave and I ended running after the others the whole heat, struggling on every wave to find the scores. I like bigger waves and I'm stoked I made to the last day to surf a real El Confital. I'm satisfied and I can't wait to go the next event," confessed Roberts.
It was another great edition of the Ocean & Earth Pro and everyhting is set to bring back the best surfers in the world next year at El Confital's perfect venue. Next event starts Tuesday in Lanzarote.
About ASP
The Association of Surfing Professionals (ASP) is the governing body of professional surfing. Crowning surfing's undisputed world champions since 1976, the ASP sanctions the following tours: the Foster's ASP World Tour, the ASP Women's World Tour, the World Qualifying Series (WQS) and the World Longboarding, Junior and Masters Championships. The ASP is dedicated to showcasing the world's best surfing talent in a variety of progressive formats and has revolutionized the way the world watches surfing via their webcasts. The organization is divided into seven different regions: Africa, Asia, Australasia, Europe, Hawaii, North America, and South America.