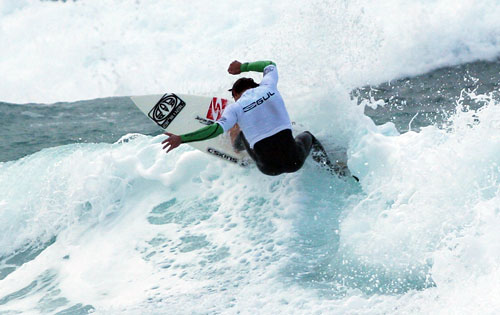 Newquays Alan Stokes beat of a highly talented field to clinch victory at the final event of the UK Pro Surf Tour
Alan Stokes won the hotly contested Gul Newquay Open, the final event on the UK Pro Surf Tour 2007, ahead of Matt Capel, Russell Winter and Johnny Fryer. Fistral beach provided testing conditions for the UK Pro Tour title decider on the 10th and 11th of November. The Open event was a high-tension affair with all six of the top seeds on the tour still in with a chance of taking the tour title coming into the final event.

Gul's Russell Winter looked like the one to beat in the Open contest, cruising through to the Semis where the competition really started to intensify. The tour rankings were tight at the top with Sam Lamiroy less than 100 points ahead of a fired up Llewellyn Whittaker, fresh from his Triple Crown victory. Drama unfolded in the Semi finals where both the top two seeds were knocked out, which gave Sam Lamiroy the 2007 Pro Tour victory but left the contest wide open. The final came down to Russell Winter, Johnny Fryer, Matt Capel and Alan Stokes. Spectators were treated to a hotly contested final 20 minutes as the sun set on Fistral beach with Alan Stokes beating off a determined Matt Capel.
The Women's contest was a tightly fought final with all four pushing for the contest win. In the end it went to Gul team rider Beth Mason from Swansea. Second place in the final was good enough to give Gwen Spurlock the 2007 tour title, with Easkey Britton in third and Jenny Horbas fourth.
The Groms competition was held on the opening day of the competition with Under 16 Boys, Under16 Girls and Under 12s Open divisions. The Under 16s boys' section went to Newquays Lewis Clinton with Josh Piper in second. Alex Baker finished in third, which was enough to secure him the Under 16s Tour title, fourth went to George Picking from Newquay. Swansea's Gwen Spurlock had a storming Under 16s Girls final, taking the contest and tour win. The Under 12s Open finalists put in a determined performance in testing surf with Harry Timson emerging victorious.
Saturday was rounded off with a highly charged Firewire Expression Session. The top seeds from the UK Pro Tour, along with Wild Card entrants Russell Winter and Reuben Ash, took the water on new Firewire boards for 20 minutes heats for the best wave winner takes all contest. British number one Russell Winter made the most of surfing his home break to take the Expression Session in fine form.
Dave Reed commented:
"This years tour has gone from strength to strength. The Gul Newquay Open has cemented the fact that the level of surfing is as high as ever."
A big thanks go out to 2007 UK PST sponsors, G Shock, for providing hospitality for the competitors, staff and media throughout the tour, Relentless for providing, the money manoeuvre prize of £250 for the Most Radical Manoeuvre. Which went to former European Junior Champion Ben Baird and Skinners Brewery for all the party refreshment
For further information visit:
www.gul.com
www.bpsauktour.com