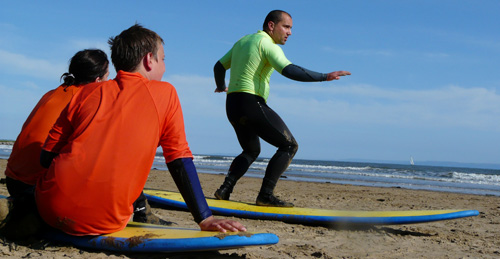 A new surf school has been launched along the South Wales coastline encouraging people of all ages to take to the water whilst protecting the environment.
Porthcawl based mobile surf school, Cressey's Surf Academy launched in June of this year in response to the growing demand for private surf lessons from Head Coach and South African Surfing Champion, Ingemar Cressey. Previously sponsored by Billabong, Cressey had been competing in surf competitions across the world for over 18 years, whilst working as a Lifeguard and Surf Instructor, but it wasn't until he moved to Wales that business really began to take off.
"The demand for Surf Lessons in the UK is much higher than in South Africa" Cressey explains. "For many people in South Africa surfing is a natural part of their lifestyle. Surfing in the UK is currently a growth industry, with more and more people recognising the benefits and opportunities that lie within their own shores. With many people currently choosing to holiday in the UK, now more than ever people of all ages are looking to give surfing a go – and Wales is the perfect place to learn."
A fully qualified British Surf Association Surf Coach, Lifeguard and Fitness Instructor, Cressey began offering private lessons to friends and colleagues, but within a year found demand warranted the launch of a fully fledged surf school with a difference – and so Cressey's Surf Academy was born.
Calling itself an 'eco-surf school' Cressey's Surf Academy aims to provide professional, accessible and sustainable surfing experiences that benefit mind, body and soul without detriment to the environment. As Cressey explains, "Our business is obviously a lot closer to nature than most. So it makes both ethical and commercial sense for us to ensure we do all we can to protect the environment that provides our livelihood and enjoyment. We've started in small ways, like offsetting our carbon emissions, recycling equipment, using sustainable or recycled resources for our marketing materials and products, and educating our clients, but we hope to develop in these areas as the business grows."
As a mobile surf school Cressey's Surf Academy is also able to travel wherever the best surf conditions are for each lesson, utilising many different beaches and keeping their environmental impact to a minimum. Cressey continued, "Our slogan is 'we go where the waves are', which means we are free to offer surf coaching sessions all along the South Wales coast. We've taught everyone from children to adults, hen days, birthday parties, youth group beginners and competitive surfers – regardless of age or ability everyone can benefit from surfing".
In fact, such is the inclusive nature of the Cressey's Surf Academy approach that they have even been involved in an unusual partnership with Welsh National Opera. Taking 30 young people from across Bridgend County and the South Wales Valleys on an intensive week long course last summer, Cressey worked as a Surf Coach for the project combining surfing, song writing and film making – the latter led by another Cressey's Surf Academy coach and local eco-surf film maker, Anne Gallagher. The project was so successful that Cressey's Surf Academy is now in talks with other local organisations keen to make a positive impact on the lives of young people within the area through similar opportunities. The surf school is also exploring ways to offer surfing experiences to people with disabilities, helping the sport to become more accessible.
"There is a freedom you experience whilst surfing the ocean," Cressey's Surf Coach, Anne Gallagher added. "We're passionate to share that with as many people as possible, whether you're learning to surf for fun or you're focussed on becoming the next Kelly Slater!"
Cressey's Surf Academy offers tailored surf sessions for 1:1 and groups of all sizes, ages and levels of ability from beginners through to advanced and competition level. All equipment is provided and prices start from just £20pp for half a day, with special offers available for youth and school groups. The school is fully insured and able to offer surf sessions any time of the day or week, subject to availability. Cressey's Surf Academy is also the official distributor for DK Surfboards in Wales, as surfed by British Champions Tom Butler and Luke Dillon, and Ripcurl Team Member Jayce Robinson, and are able to assist with custom made board queries. For further information visit www.cresseyssurfacademy.com or contact Ingemar Cressey on m: 07502 124030 e: [email protected].