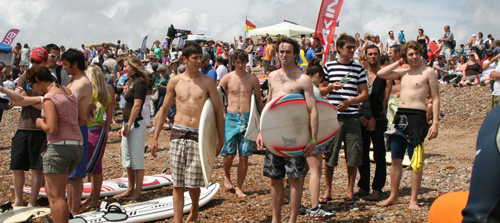 This year's Paddle Round The Pier, sponsored by Feelfit, has raised an estimated record-breaking £30,000 for this year's charities – The RNLI, SurfAid International and local children's charity, The Rockinghorse Appeal.
Around 23,ooo people from across the globe visited the event, which was held on Saturday 4th and Sunday 5th July on Hove Lawns.
Dave Samuel, Paddle Director said: "Well what a fantastic weekend. Good weather and great sea conditions made this the best and biggest Paddle Round The Pier event ever.
"All of the events in the water and on the land were really well supported, but what was hugely satisfying was to see a record number of people take part in the 'Paddle Round The Pier' itself on Sunday afternoon.
"I would also like to give a huge thanks to everyone who helped make this event as successful it was – the other organisers, all the volunteers, the bands, Brighton & Hove Council, the Seafront Office, the local businesses and of course our sponsors, in particular Feelfit.
"And on behalf of the charities I would like to thank all of the people who came down and joined in the fun. Their generous donations will make a huge difference.
"Get your diaries out now and make sure you write in Saturday 3rd and Sunday 4th July for the 2010 Paddle Round The Pier."