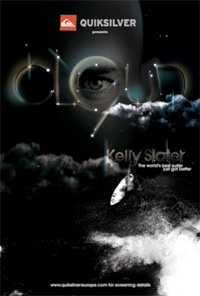 Kelly Slater the world's best surfer just got better.
With 8 world titles to his name by 2006, Kelly Slater was considered to be the Tiger Woods or Tony Hawk of surfing. When the man who was the youngest ever world champion aged 20 decided to seek an historic 9th world title at 35, his place in the sporting hall of fame was secured.
CLOUD 9 follows the two-year campaign leading up to Kelly Slater's historic 9th world title.  As well as in-depth interviews with the man himself, the film features skateboarding legend, Tony Hawk and surf stars, Mick Fanning, Dane Reynolds, Jeremy Flores, Jeff Hakman, Miky Picon, Taj Burrow and Joel Parkinson who bear witness to Kelly's incredible career.
The four times world champion Mark Richards narrates the journey.  The captivating story follows Kelly Slater's battle for the title and takes the audience back to his humble roots in Cocoa Beach, Florida, offering a spectacular insight into the mindset of the young Kelly Slater and what drove him from an early age, to succeed.  Kelly reveals what still drives him on to compete across generations and reach such peaks of performance.  As well as seeing some of the best waves at some of the most beautiful locations on the planet, CLOUD 9 takes us backstage, capturing the highs and lows of life on the World Tour.  The audience is with Kelly when he wins world titles and loses them and is taken along for the ride like never before.
The camera follows Kelly as he loses a world title to Mick Fanning in 2007, at which point commentators and Kelly himself questioned whether or not he would retire or continue to compete in the 2008 season.  Events transpired against his retirement as he unleashed an unprecedented assault on his rivals and found himself on course for the elusive 9th world title and yet another record to add to the book.
The inspirational story of human endeavour in CLOUD 9 illustrates the dominance and determination of Kelly Slater, the world's best surfer.  Having touched on his past, it then looks to the future.  What is next for Kelly Slater?  Will he aim for the 10th world title or will he change the shape of the sport in other ways?  Can the world's best surfer get even better…?