Aritz Aranburu eliminates Kelly Slater in Round 2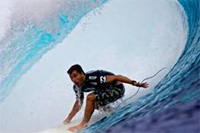 Aritz Aranburu (EUK), 23, current ASP World No. 39, caused the upset of the event, eliminating reigning nine-time ASP World Champion Kelly Slater (USA), 37, in Round 2 of the Billabong Pro Tahiti.
Following four consecutive lay days, the event roared back to life this morning, with the world's best surfers tackling the three-to-four foot (1 – 1.5 metre) waves on offer at Teahupoo.
After surprising eliminations of Euroforce members Jérémy Florès, local surfer Michel Bourez, Miky Picon… at the very beginning of the event, Aritz Aranburu and Tim Boal were the last two european surfers still on course last night.
While French surfer Tim Boal was easily eliminated by Australian Tom Whitaker, Euskadi surfer Aritz Aranburu blew up his heat against King Kelly.
For Aranburu, it would mark his first heat win of the 2009 ASP World Tour season; the young Basque surfer of Quiksilver Surf Team putting up an impressive 17.27 heat total to Slater's 15.00.
"Kelly (Slater) is the best competitor and the best surfer in the world and I was just trying to stay focused out there so I could get my own waves," Aranburu said. "Once I got that first score I almost felt more pressure because I was surfing against Kelly and I know what he can do with his priority. I just tried to put the pressure off and luckily I got a second good score and it worked out."
The win was no easy feat as the pair locked in the highest-scoring heat of the event, but Aranburu's near-perfect 9.77 out of a possible 10, for an extremely deep backhand barrel in the opening minutes of the bout, assisted the European in his landmark victory.
"I was lucky to get that first wave," Aranburu said. "I paddled deep because I knew I was going to need a big score against Kelly (Slater) and when I was paddling into it, I thought I was going to fall, but I made it, so I'm happy."
Aranburu will now face current ASP World No. 9 Damien Hobgood (USA), 29, in Round 3 of the Billabong Pro Tahiti when competition resumes.
For Slater, today's disappointing result marks his third, consecutive equal 17th place finish in 2009, leaving many to ponder the iconic Floridian's state of mind in regards to his campaign for an unprecedented 10th ASP World Title.
"That may have just given me an excuse for a big, long vacation," Slater said. "I don't know yet. It's really decision time for me. With that many 17ths, you're really hard-pressed to win an ASP World Title. I'm not here to just make up the numbers, but I don't want to fall off the map either – I guess I kind of have though. Numbers-wise, I'm still within the possibility of getting in late in the year, but I don't know. I guess I have a lot on my mind."
Slater has yet to confirm if he will attend Stop No. 4 of 10 on the 2009 ASP World Tour, the Hang Loose Santa Catarina Pro in Brazil, from June 27 to July 5, 2009.