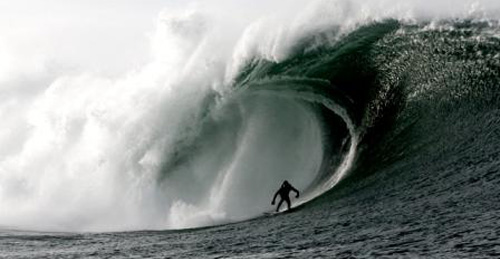 Three surfers are going against the grain of the norm, they are seeking out the biggest, the heaviest, most unpredictable and hidden breaks around Ireland Why? Because they are Artists, they are driven by an unquenchable passion for their art and never choose the easy route. Powers of Three is a documentary that follows three remarkable guys as they pioneer and conquer Irish waves through the bleak winter months.
Relentless Energy announce the official release of Powers of Three – a ground breaking big wave surfing documentary.
For most of us, when we think of big waves we see in our minds' eye the glorious breaks of California, South Western Australia, Hawaii or Tahiti, freaks of nature – every one of them… There exists, though, a small circle of people, for whom big and heavy conjures images of an altogether different place: the west coast of Ireland. This is the place of choice for the Artists of the Oceans, those who will never choose the easy route.
During winter, a small stretch of Atlantic-facing coastline provides an unpredictable selection of waves with the scale, power and weight that can comfortably compete with what the rest of the world has to offer. That they are named Aileen's, Lauren's, and Riley's conceals their brutal nature behind a veil of charm.
Today's technology might offer two or three days notice to the touring surfer in other parts of the world, but Irish forecasting means getting up in the dark, taking a perilous hike and staring out at the sea from the cliffs that tower 700 sheer feet over the action.
Fergal Smith, Tom Lowe and Mickey Smith are more than just athletes, they are Artists driven by obsession, and prepared to suffer and sacrifice in pursuit of their art. While they can surf almost anywhere, they have made it their purpose to pioneer and push ahead; to conquer these Irish waves through the bleak winter months.
Mickey saw the early potential of these waves and set events in motion. Now they are being respectfully pioneered by Fergal and Tom. Mickey documents their progress and describes it as, "a journey which is stirring, awe inspiring and shows the true unpredictability of the ocean".
Relentless are proud and privileged to document this trial, to share a story of three young men extending the meaning of courage and dedication in one of the most beguiling, magnificent and deadly locations that could ever play host to the surfer.
Relentless Brand Manager, Steven Ruhl, said Powers of Three represents a true departure from the usual core sport film genre as we bring a grittier edge and cinematic look and feel to this big wave documentary''.
"The film follows three remarkable guys doing truly remarkable things in the cold, watery paradise that is Ireland".
"Powers of Three brings to life the theme of artistry, one that underpins the Relentless brand and represents yet another step in our ongoing journey. One which is proudly supporting and showcasing British and Irish surfing to a wider audience through our on-line release at  www.relentlessenergy.com and DVD covermount with Carve magazine,"