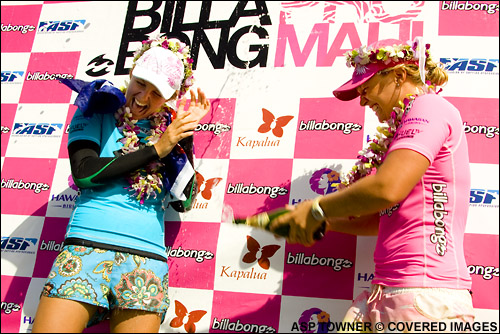 HONOLUA BAY, Maui (Thursday, Dec. 13, 2007) – Stephanie Gilmore (AUS) has just made ASP History as the first-ever surfer to claim the ASP World Title in their rookie season, having bested fellow contenders Sofia Mulanovich (PER) and Silvana Lima (BRA) in Round 3 competition today at the Billabong Pro Maui at Honolua Bay.
The 19-year old from Coolangatta, Australia, blitzed past opponent Rochelle Ballard (HAW) with a stunning performance to advance through to the Quarterfinals of the Billabong Pro Maui after rival Mulanovich went down to wildcard Keala Kennelly (HAW) in a surprise Round 3 elimination.
"Surprisingly, I did quite well to not watch Sofia's heat at all, and I didn't even know that Keala (Kennelly) had won until right before my heat was about to start," Gilmore said.  "That was interesting.  I guess it was awesome for me.  I was stoked.  It pretty much just fired me up when I heard that, and then the next wave I got barreled."

With Mulanovich eliminated, and following her phenomenal win over the veteran Ballard, Gilmore needed fellow rookie Rosanne Hodge (ZAF) to defeat remaining contender Silvana Lima (BRA) in the final heat of the day to seal the ASP Women's World Title.  With less than five minutes remaining, Hodge turned the tide with an incredible forehand assault on a roping righthander which would put her into the lead.  The countdown to the heat ended with the raucous applause from the army of media and hundreds of spectators assembled on the beach.
Gilmore first moved to World No. 1 on the ASP ratings when she took out the Rip Curl Bells Beach in Australia in April – though she shared the top spot with 2005 ASP World Champion Chelsea Hedges (AUS) at the time.
She claimed the sole ratings lead after a semifinal finish in Brazil, but then dropped to 4th in the world with a 9th in Spain. Back-to-back wins in Sydney, Australia and Peru put Gilmore in contention to seal the deal with one event to go in Sunset Beach, Hawaii, but the Australian fell short, netting only an equal 9th place finish.
Requiring a result in Maui, Gilmore stepped up her performance at Honolua Bay, consistently displaying her world class form before sealing the title this afternoon.
Despite the numerous accolades collected by predecessors such Layne Beachley (AUS) and Kelly Slater (USA), Gilmore is the first surfer ever to claim the ASP World Title in their rookie season.
"That's amazing, I never even thought of that until now," Gilmore said.  "It's truly an honor to make my way into the history books.  To do it here in Maui, in waves that are barreling, and with all the family and friends here to share it with is truly amazing.  I'm absolutely over the moon, and I'm just at a loss for words."
Gilmore's phenomenal rookie season on the ASP Women's World Tour saw the prodigious natural-footer claim victories at the Rip Curl Pro at Bells Beach, the NAB Beachley Classic in Sydney and the Mancora Peru Classic.  Although 2007 was Gilmore's official rookie season, the Australian had already scalped two events as a wildcard prior to this year, the Roxy Pro Gold Coast (2005) and the Bico Beachley Classic (2006).
"I've just had an amazing first year on tour," Gilmore said.  "I have great traveling partners like Jessi Miley-Dyer (AUS) and my team manager Kate Skarrat (AUS) has been there for me all the way – she's just a great person to bounce ideas off of.  I've also had Mick Fanning (AUS) – he's a fellow Rip Curl teamrider and his season this year has been a real inspiration to me."
Gilmore and Fanning are the first two Australians to concurrently hold the ASP World Titles since 1999.
Looking ahead, Gilmore's precision in the water and competitive savvy will do 19-year-old well as she finishes out the 2007 season and focuses on defending her ASP Women's World Title in 2008.
"Right now, I'm just enjoying the moment," Gilmore said.  "It's such an incredible feeling; I honestly can't describe it.  Definitely though, next year I will be bringing my focus back to the tour.  I don't want to lose this feeling, and I can't wait to finish out the year and head into 2008."
The Billabong Pro Maui will make a call on the Quarterfinals at 7:30am tomorrow.
All Billabong Pro Maui action will be webcast LIVE via www.billabongpro.com/maui07/index.asp and www.aspworldtour.com
For more information, log onto www.aspworldtour.com or www.triplecrownofsurfing.com
FUEL TV will be broadcasting the Billabong Pro Maui presented by Hawaiian Airlines.  For more information, log onto www.fuel.tv
STEPHANIE GILMORE – 2007 ASP WOMEN's WORLD TOUR RESULTS
Roxy Pro Gold Coast: Equal 5th
Rip Curl Pro Bells Beach: WINNER
Billabong Girls Pro Brazil: Equal 3rd
Rip Curl Girls Festival Spain: Equal 9th
NAB Beachley Classic Sydney: WINNER
Mancora Peru Classic: WINNER
Roxy Pro Sunset: Equal 9th
Billabong Pro Maui: TBA
RESULTS: Billabong Pro Maui (ASP Women's World Tour)
ROUND 3: 16 surfers remaining
Heat 1: Layne Beachley (AUS) 11.75 def. Jacqueline Silva (BRA) 7.75
Heat 2: Melanie Bartels (HAW) 10.25 def. Chelsea Hedges (AUS) 7.50
Heat 3: Jessi Miley-Dyer (AUS) 18.65 def. Rebecca Woods (AUS) 9.75
Heat 4: Keala Kennelly (HAW) 15.90 def. Sofia Mulanovich (PER) 7.50
Heat 5: Stephanie Gilmore 9AUS) 18.55 def. Rochelle Ballard (HAW) 10.25
Heat 6: Claire Bevilacqua (AUS) 15.00 def. Amee Donohoe (AUS) 12.00
Heat 7: Megan Abubo (HAW) 4.00 def. Samantha Cornish (AUS) 3.50
Heat 8: Rosanne Hodge (ZAF) 13.30 def. Silvana Lima (BRA) 12.25