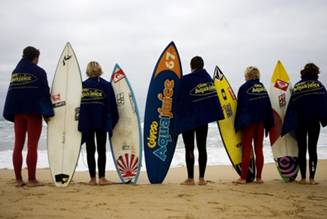 A five-year £75,000 sponsorship of the British Junior Surfing Team by children's drinks company, Calypso, is set to end years in which Britain's best young surfers have been starved of the funding they need to compete at the peak of their ability in international events.
"This is a massive boost for Britain's elite young surfers at a time when they are on the verge of long, professional careers in what has become one of the country's fastest growing sports," said Karen Walton, director of the British Surfing Association (BSA), the sport's governing body in Great Britain and the Channel Islands.
"Their talent has never been in any doubt, now this deal with Calypso means they can concentrate on structured training and receive the very best coaching and support without having to worry about where the money is coming from."
As a 'warm up' before the main sponsorship begins in 2008, Calypso has joined some of the biggest brands in the sport as a Gold Sponsor of the BSA, a move which will help the association to continue its vital role in developing the sport at all levels.

"Surfing has to be one of the most exhilarating, exciting and accessible sports for British youngsters and it's a perfect match for our own emphasis on drinks which are healthy, fun and refreshing," said Calypso's sales and marketing director, Richard Cooke.
"There's some spectacular talent out there in the junior squad and we hope our sponsorship will help to make a real difference to their future success."
Thanks to the deal, the BSA will now be able to run a full programme of winter training camps for the current junior squad of 25 young surfers, who come from as far apart as Newcastle Upon Tyne and Jersey, with South Wales, South West England and the Isle of Wight in between.
It's from this squad that the 2008 team of four boys under 18, four girls under 18 and four boys under 16 will be picked to represent Great Britain and the Channel Islands at the World Junior Surfing Games in May, which are likely to be staged in France.
They'll be hoping to improve on their placing in the 2007 event in Portugal, where they finished 11th out of the 40 nations taking part – but had to resort to packing customers' bags in local supermarkets to raise the money to get them there.