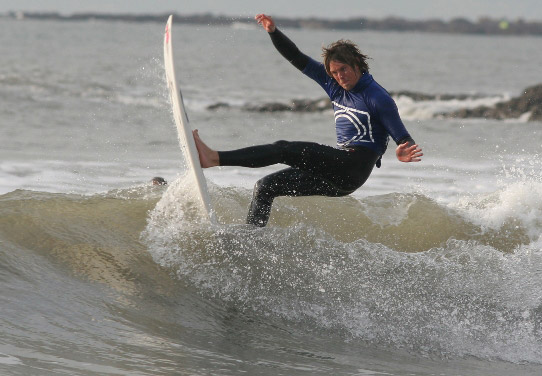 Australian surfers Toby Atkins and Dara Penfold win the '2007 Elusive Welsh Open', the 4th of 8 UK Pro Tour (UKPST) competitions being held this year.

This was the second tour event win for Toby in two years, showing he is in form and one of the contenders for the 2007 tour title. It is remarkable considering he is coming back from injury after suffering ligament damage surfing earlier in the year
Toby commented "It is great to win against such a strong field of competitors, I am looking forward to coming back and defending this title" adding "I would like to thank my sponsors for their support and Elusive for stepping in and sponsoring the event".
Dara Penfold made it two in a row on the Women's UK Pro Surf Tour. However at this event she did not have it all her own way, Easkey Britton (Ireland) pushed her all the way defeating her in the semi finals and only missing out by 0.8 in the final.
The event was held at Rest Bay Porthcawl and was the seventh year the tour has come to Wales, the last two years the event has been held at Freshwater Beach in Pembrokeshire. Prior to that it had been hosted at Langland Bay and Llanglennith Beach.
The Relentless Money Move for the best Cut back was closely contested throughout the event but eventually won by Newquay based surfer Llewellyn Whittaker who is also coming back from a serious injury to his leg.
Dave Reed, Director of the UKPST states, "I would like to thank Elusive for supporting this event at such a late stage and giving the tour an opportunity to come to Wales" adding "Wales has many talented surfers, twenty years ago they were not just the best in the UK but amongst some of the best in Europe. I believe this event will inspire and give an opportunity for the local surfers to push their skills to be able to compete with the best in Europe again".
Nick Clewer, founder and Company Director of Elusive further comments, "I would like to thank all the surfers for coming to the event, it has been one of the biggest surf contests we have seen in Porthcawl and we look forward to making it even bigger in the future".
A big thanks go out to 2007 UK PST sponsors, G Shock for providing hospitality for the competitors, staff and media throughout the weekend, Relentless for providing, not only an endless supply of energy drink but also the money manoeuvre prize of £250 for each stop on the Tour and Skinners Brewery for the party refreshment.
This event was produced and promoted by UK Surf promotions Ltd. and Evo Management (uk) Ltd.
Results:
Open Womens
1st Toby Atkins (Aus) Dara Penfold (Aus)
2nd Joss Ash (Bude) Easky Britton (Ireland)
3rd Chris Schnitzer (S Africa) Beth Mason (Swansea)
4th Struan Wilkins (S Africa) Gwen Spurlock (Swansea)