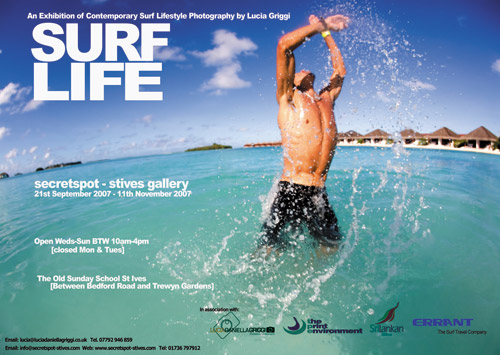 LIVING THE LIFE AT SECRETSPOT-STIVES GALLERY
21st September – 11th November 2007
Lucia Griggi has an enviable life. One of a small handful of women in the world to have broken through the male dominated ranks of surf photographers, and the only one in the UK whose work regularly appears in the top surf mags as well as the fashion press, she divides her time between homes in Newquay and Venice and travelling the world on photo assignments.
Still in her twenties, this exhibition is Lucia's first in the UK.  A regular on the surf circuit for the last seven years, she admits that 'surfing has inspired me to photograph. I love the people and the ocean.' This exhibition brings these two aspects together in a series of studies which capture different facets of the surfing lifestyle. As well as exotic, Bounty-ad perfect locations like Sri Lanka and the Maldives, Lucia features less obvious surf locations like Alaska. However, her studies of idyllic surf spots also show the harsher social realities of destinations such as Morocco.
Lucia's work frequently appears in magazines such as Carve , Surfgirl, and Cooler magazine, and her advertising industry clients have included Calvin Klein, Coty, Davidoff, Budweiser and Fosters, as well as most of the leading surf and skateboard brands.
A regular official snapper on the WQS and UK Pro Surf Tours, this year she has photographed surfers at the O'Neill Highland Open in Thurso, Ripcurl Pro Santander World Tour event in Spain, and the Sri Lankan Airline Pro in the Maldives, as well as, nearer to home, the Ripcurl Boardmasters and K-Festival.
Lucia met Geoff Swallow, Director of the secretspot-stives gallery through an assignment for Surfgirl magazine, in which Lucia travelled with the British junior surf squad to Tagazhout, Morocco, in February last year. 'I took one look at the photos,' says Geoff, whose daughter Tassy was among the surfers on the trip 'and I just knew that we had to give Lucia an exhibition. As well as a great photographer, she's a fantastic role model for women, breaking through in not just one, but two male dominated industries – surfing and photography.'
Secretspot-stives gallery is the only gallery in Britain specialising in images of surf culture. As well as the photographs on display, the exhibition will also feature Lucia's images laminated onto surfboards, furniture, such as coffee tables, and even deckchairs! 'I'm working with a Cornish company called Print Environment, which specialises in large scale printing onto a wide range of different surfaces,' Lucia explains. 'The possibilities are endless, and will make people see the images themselves in a new way.'
During the exhibition, Lucia will also be running a series of three day residential workshop aimed specifically at women interested in a career in photography. 'They will be very practical, technical workshops reflecting my interests in location, surf action and portrait photography, ranging from choice and use of equipment through to how to manage clients on assignment,' says Lucia. Numbers are limited to a maximum of 6 per course, and cost £250 per person. A small number of non residential places will be available. All enquiries should be made through the gallery's website www,secretspot-stives.com.
'We are stoked to be working with Lucia on this exhibition,' says Geoff Swallow, 'and thank our sponsors, The Print Environment, Errant Travel, and Sri Lankan Airlines for their help in making it happen.'
The exhibition 'SurfLife' runs from 21st September to the 11th November at the secretspot-stives gallery, before transferring to London. The exhibition is open Wednesdays to Sundays, 10am to 4pm.
Secretspot-stives gallery is at The Old Sunday School, off the bottom of Bedford Road, St Ives, behind the Church. Please note there is no parking at the venue. Nearest parking is Barnoon or Malakoff car parks.