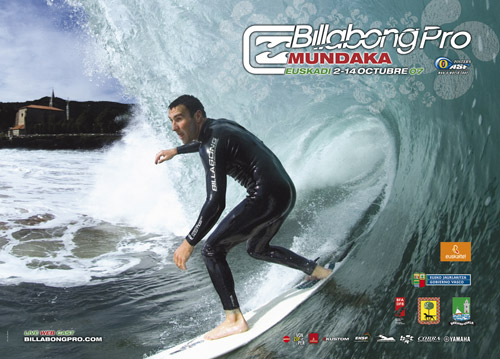 BILLABONG PRO MUNDAKA
Mundaka, Euskadi (North of Spain)
October 2-14, 2007
8th stop on the ASP Fosters World Championship Tour (WCT)
USD $ 300 000 prize money
www.billabongpro.com

The $300,000 USD Billabong Pro Mundaka is the 8th (out of 10) event on the Association of Surfing Professionals (ASP) Fosters World Championship Tour.
The event will be held at Europe's best left-hand wave in the fishing village of Mundaka, renowned worldwide for its long and hollow wave barrelling over 200 meters in the river mouth of the Guernika river.
The world's best 45 surfers will be charging Europe's Best Left over a twelve-day waiting period, in order to allow the best surfing conditions possible.
The Billabong Pro Mundaka is crucial in the world title race, as shown last year when Kelly Slater sealed his 8th world title at Mundaka with still two events to go until the final.
Halfway through this season, five surfers are within a 1000 point range from each other, with Australian Mick Fanning in the lead, followed by Taj Burrow (Aust), Andy Irons (Haw), Kelly Slater (USA) and Joel Parkinson (Aust).
Alongside the world's elite of surfing, three surfers are invited to compete in the best surfing conditions.  Local surfer Hodei Collazo has received again a wildcard. Last year, thousands of spectators were cheering when he surfed head-to-head against Kelly Slater in Round 3. Local Tahitian charger Manoa Drollet will experiment the hollow tubes of Mundaka for the first time in his career. The natural-footer is rarely seen in competitions but will never turn his back on a magical barrelling wave.
WQS charger Tiago Pires will also be in the line up of this year's Billabong Pro, a foretaste of next season as Tiago is already qualified for the 2008 WCT.
The Billabong Pro Mundaka will officially start on October 2nd, with the inaugural ceremony, and will run whenever conditions allow until October 14th at the latest.
At the start and end of the competition, surfers and officials will be greeted by the Aurresku, an honorific and traditional dance, and the 2007 winner will be carried by the local surf club members to be thrown in the port.
Alongside the competition, Billabong will set up a giant screen in the middle of the village, broadcasting the event during the day, and presenting exclusive film screenings.
Trilogy, a surf film by Taylor Steele starring Andy Irons, Taj Burrow and Joel Parkinson will be premiered for the first time in Europe on October 5th and 6th.
Billabong Pro Mundaka can be viewed LIVE and free on the internet on www.billabongpro.com.  See all the action from the Billabong Pro from the comfort of your own home with six different camera angles, LIVE interviews with the worlds elite and LIVE commentaries in English, French, Spanish and Portugese.