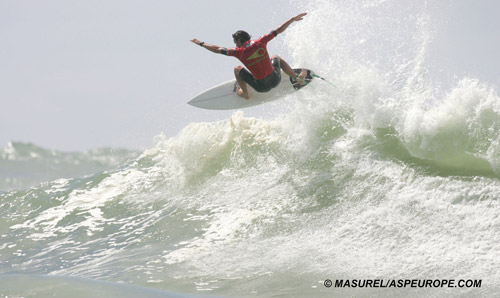 Jordy Smith (Zaf) won today the first 6 Star WQS event of his career, defeating Spanish Basque surfer Arits Aranburu (Euk) in a 35-minute final, where the two men had to face testing 5 to 7 ft messy waves. Scoring a heat total of over 16 points, Smith was unbeatable throughout the battle, keeping a confident smile on his face while he was running on the beach to paddle back out due to the strong currents.
"I'm just so stoked… I've been chasing this victory for the last months as I made a few finals this year but couldn't get the crown. It's done now so I'll just enjoy this result and still keep going to Hossegor to try and go further."
"It's good to be that close to the Foster's ASP World Tour, it's been on my mind and I've done it almost. I will still be going for a possible WQS world champion title so I'll try to keep it away from Tiago Pires (Prt)," said the 19-year-old man with a large smile on his face.
With his victory in the 2007 Sooruz Lacanau Pro, former ASP Junior world champion Smith rushes up to first place on the international WQS ratings and secures 12 200 points, more than enough to be relaxed for the rest of the year. Asked about the ratings, Smith ended "I don't really care… I'm not going to think about that because I haven't until now and it's been working good so I'll keep having fun, that's it."

Runner-up of the French Pro, Aritz Aranburu (Euk) wanted it all and was disappointed. "I'm not happy with this last heat. The tide changed and I could not find the rythm as in the semifinal before… If not win, I could have done better."
"It's still a very good result for me and I'll keep going with this good feeling. All my family came to Lacanau to support me in the last heats and I'm glad I reached the final at least for them. I've had lots of support everywhere and it is really something big when you are going for such a tough race on the ratings."
Jumping from 18th to 9th on the WQS race, Aranburu is confirming the expectations that started in Brazil last February after his win in the 5 Star WQS. "I still have a lot of work to do to get going towards the Foster's ASP World Tour, but these 2188 points are definitely going to get me close and I'll just forget about this for a while and head back to Hossegor where lots of things will be decided."
Jihad Kohdr (Bra) was the second semifinal loser, when he was dominated by an on fire Aritz Aranburu (Euk) needing a combination to catch up as nine minutes were remaining. "Aritz got the best potential waves and when he found this 9.5 pts ride, I knew it was over. You have to be lucky today to paddle on the opening waves so it went to him and I congratulate him for his performance."
"I was proud to represent brazil in this event and reach the semifinal, and I just want to thank all my sponsors and family for the support, before hossegor where I hope I can repeat the performance."
In semifinal #1, Dayyan Neve (Aus) had to face South Africa's wonderkid and favourite Jordy Smith. Talking about his equal 3rd finish, "I'm stoked to make this semifinal result. I've been on such a good roll since Japan, got in the quarterfinals in Newquay and still made it better here again…"
"Jordy was ripping, I saw from behind some huge sprays of water and I knew he was taking over during the heat. All i hope is he can win this event now so I wish him all the best, and Merci beaucoup to all the public around," finished a smiling Dayyan.
Losing in the quarterfinals to Jordy Smith, best scorer of the event Nic Muscroft (Aus) had a tough time in the testing conditions. Still bettering his ratings' total by a thousand points, Muscroft was happy with his path in Lacanau. "I wasnt' lucky to surf against Jordy, he's the man in form of the moment so I know it was going to be tough," started Nic.
"I had been watching the waves for a while before my heat and I didn't think it would be that hard. Only a few opened and I just couldn't make it. However, this result is pretty good and gives confidence for the remaining events, including the most important of the year starting tomorrow," confessed Muscroft.
After an impressive run in the event, Dodrigo Dornelles (Bra) was overtaken by the other man of the event Dayyan Neve (Aus), on fire since Newquay. "I wish I made this one… It was really tough to find the opening sections and I didn't manage really well."
"But this event changed a lot of things for me as I went through some very difficult heats so it's very promissing for the rest of the european events. I'm happy I found this good board and why not get going like this next week," finished Dornelles.
Best Hawaiian of the Sooruz Lacanau Pro, Joel Centeio was much awaited in the massive testing waves, but unfortunately couldn't step up to Jihad Khodr's (Bra) assaults, the brazilian totalling 15 pts to reach the semifinals. "I know I didn't do anything in that heat… I like that kind of powerful waves so I thought I could get some good scores but it just didn't happen, and everything went to Jihad."
For his first event in Europe as Centeio wasn't in England last week, "it's good to get a quarterfinal result for my first event around here. I've had some bad results and dropped in the ratings but I hope this is the new start for me and I'll really look forward to Hossegor," finished Joel.
In quarterfinal #4, outsider Daniel Redman (Zaf) ranked 140th before this result lost to the Spanish Basque Aritz Aranburu (Euk), leaving the water disappointed. "It wasn't easy… Actually I couldn't expect better than this finish for me as I had a great event and got through lots of heats. The conditions are just so hard… You have to paddle all the time and I felt like I was floating around out there, struggling a lot."