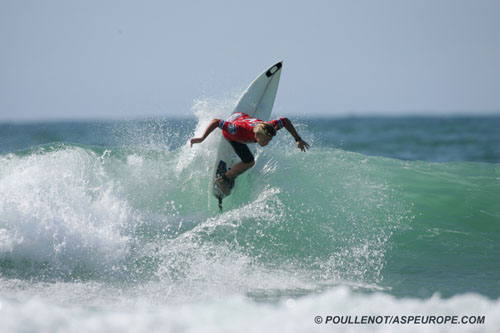 Romain Cloitre (REU) has outclassed a quality field of 96 young professional surfers to win the Rip Curl Pro Junior 3 star contest in Seignosse, France today, in great 3-4ft (1-1.5m) waves.

The final hit the water at 6pm local time, in front of hundreds of people on the beach enjoying a sunny summer day in southern France.
The Reunion Island surfer was the standout competitor all day and finalized an impressive campaign by defeating Julian Wilson (AUS), Gravett Clinton (ZAF) and Luke Hugues (NZL) in the 30-minute final.
Today's result was Cloitre's third win from four events on the ASP European Pro Junior Tour this year. He comfortably remains the Junior ASP Europe Ratings Leader, earning 2000 ratings points.
"I'm very happy to win in Hossegor, because it's the major contest of the Europe Pro Junior Tour," said the 18-year-old, who recorded a two-wave combined score of 15.43 points in the final.
"The waves have been really nice and it's been a great contest. I'd also like to congratulate Julian, Luke and Gravett for being finalists and I'd like to thank all of my sponsors for helping me so much this year."
The week in Seignosse/Hossegor is not over for Cloitre though – his win today earning him entry into the Rip Curl Pro World Qualifying Series contest, set to start on Monday August 20.
"I am so stoked to get entry into the Super Series WQS – it's such a big contest," said Cloitre. "I won't have any pressure on results in the event, so I just want to do my best and surf with the very good surfers."
Finishing in second place overall today was Australian Julian Wilson. The 20-year-old was the 2006 ISA Under 18 World Champion and is touted as one of surfing's "next big things".
He competed well in the final, posting a two-wave combined score of 14.44 points to finish less than one point behind Cloitre.
"I'm happy with my result," said Wilson. "You're always a bit disappointed when you don't win, but it was a great event, we had good waves the whole time and it was fun to be here. I have never done a Pro Junior contest in Europe, so it's good to come over and see how it all works and see the talent over here."
"All of the guys in the final surfed well for the whole contest and I knew Romain was always going to be tough," continued Wilson, "He's been to Australia a few times and I've seen him surf. He's definitely improved since the last time I saw him though – he's ripping."
Luke Hugues and Gravett Clinton finished third and fourth in the final, posting heat scores of 11.17 points and 9.30 points respectively.
Wilson and Clinton booked their spots in the final after winning through Semi-Final 2, eliminating Eric de Souza (BRA) and Rudy Palmboom (ZAF). Wilson's 16.23-point two-wave combined score in the heat was the second highest of the contest.
Cloitre and Hugues advanced through Semi-Final 1 in first and second respectively, ahead of American Chris Waring and Charles Martin (GLP). Cloitre's 16.33-point heat score was the highest for the contest and Hugues' 15.43 was the day's third highest.
Although there will be no competitive surfing at the Rip Curl Pro tomorrow, contest organizers are hoping the conditions experienced today will reappear on Monday for the start of the Super Series WQS contest.
The Rip Curl Pro Super Series is the year's most important WQS event, offering surfers looking to qualify for the 2008 Foster's ASP World Tour maximum points and prize money for the year. Top seeds for this year's event include
Rip Curl Pro Junior (3 star) Results
Final
1. Romain Cloitre (REU) – 15.13 points
2. Julian Wilson (AUS) – 14.44 pts
3. Luke Hugues (NZL) – 15.43 pts
4. Gravett Clinton (ZAF) – 9.30 pts
Semi-Final 1
1. Romain Cloitre (REU) – 16.33 pts
2. Luke Hugues (NZL) – 15.43 pts
3. Chris Waring (USA) – 12.56 pts
4. Charles Martin (GLP) – 9.16 pts
Semi-Final 2
1. Julian Wilson (AUS) – 16.23 pts
2. Gravett Clinton (ZAF) – 11.40 pts
3. Eric de Souza (BRA) – 11.17 pts
4. Rudy Palmboom (ZAF) – 10.83 pts
Quarter-Final 1
1. Romain Cloitre (REU) – 14.20 pts
2. Charles Martin (GLP) – 13.60 pts
3. Josh Redman (ZAF) – 13.00 pts
4. Pierre Valentin Laborde (FRA) – 8.17 pts
Quarter-Final 2
1. Luke Hugues (NZL) – 14.90 pts
2. Chris Waring (USA) – 14.63 pts
3. Wigolly Dantas (BRA) – 13.77 pts
4. Adrien Valero (FRA) – 11.14 pts
Quarter-Final 3
1. Rudy Palmboom (ZAF) – 9.67 pts
2. Julian Wilson (AUS) – 9.27 pts
3. Nicolas Von Rupp (DEU) – 8.16 pts
4. Medi Veminardi (RAU) – 6.83 pts
Quarter-Final 4
1. Eric de Souza (BRA) – 14.60 pts
2. Gravett Clinton (ZAF) – 11.03 pts
3. Yassine Ramdaini (MAR) – 10.37 pts
4. Damien Chaudoy (REU) – 8.27 pts