Newquay's Fistral Beach resembled a lake for most of the day yesterday, but action at the Rip Curl Boardmasters was well and truly back on today, with Round 3 of the Men's 5 star World Qualifying Series event being held in contestable 2-3ft (1m) surf.
Retired Foster's ASP World Tour surfer Jake Paterson (AUS) paddled out in Heat 1, matching up against current Foster's ASP World Tour No. 23 Adriano De Souza (BRA), Wade Goodall (AUS) and local Mark Harris (GBR). The Brazilian was the standout in the small conditions, but Paterson did enough to secure second and a spot in Round 4.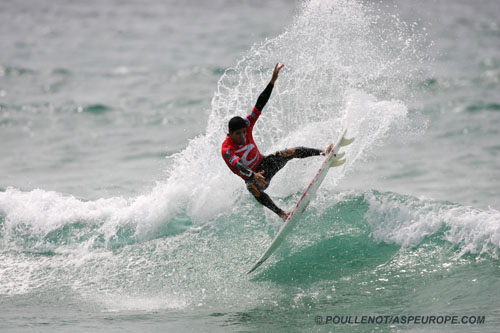 "The waves are just as expected – clean and surfable and the contest director did a great job not going yesterday," said Paterson. "It wasn't the best heat ever, but I got a 7-pointer out there, so I'm pretty satisfied."
"I am definitely not back on tour," continued the Australian when quizzed about a possible campaign to get back on the Foster's ASP World Tour. "I am just enjoying myself on a few events and getting a bit of pocket money along by the way."
Local Great Britain favourite Russell Winter hit the water for Heat 3 this morning, coming up against Drew Courtney (AUS), Daniel Redman (ZAF) and Josh Lewan (AUS). Winter confessed he was a little nervous prior to his heat, but eventually got his rhythm going to win the heat with a two-wave combined score of 13.84 points out of a possible 20.
"I'm happy I surfed in the morning with only a few people on the beach because it's always important to get through your first heat," said Winter, talking about first-heat nerves. "I'm just stoked to make this one and hope I can get back in race for the World Tour qualification."
It wasn't all smooth sailing for the event favourites this morning, headlined by the elimination of defending champion David Weare (ZAF), Foster's ASP World Tour surfer Bernardo Miranda (BRA) and WQS No. 18 Aritz Aranburu (EUK).
Weare had a dream event this time last year, but couldn't find his form in Heat 8 this morning. Foster's ASP World Tour rookie Ben Dunn (AUS) won the heat with 13.50 points, ahead of Adam Robertson (AUS) in second, Greg Cordeiro (BRA) in third and Weare in fourth.
Dunn is one of the contest favourites this week and will be hoping to his form continues tomorrow when Round 4 begins.
Aritz Aranburu and Bernardo Miranda matched up in Heat 4 today, with Marco Polo (BRA) and Basque surfer Hodei Collazo (EUK) filling out the four-man heat.Miranda had a heat to forget; only posting 3.20 points to finish in fourth. Aranburu posted a 11.50-point heat score, but it was not enough to overcome Collazo and Polo in first and second respectively. Collazo's 17.00-point heat score is the event's second highest so far.
"My top scoring wave [a 9.00-point ride] reformed all the way to the shore and I just had all the opportunity to secure some good turns," said Collazo. "I'm here to get points in order to finish the year in the WQS Top 50. I have no other plan than to just surf my best, so there is no pressure."
Rip Curl Wildcard Matt Wilkinson (AUS) is well recognised as one of the world's best young surfers and the former ISA World Under 16 Champion managed to find some form this morning to advance through to Round 4 of the Boardmasters.
The 18-year-old finished second behind James Athorn (AUS) in Heat 5, eliminating former Foster's ASP World Tour competitor Kirk Flintoff (AUS) and Ruben Gonzalez (PRT).
"The conditions were pretty fun for my heat," said Wilkinson. "I knew James would be unstoppable in these kind of waves and it wasn't easy to get big score, but it's really cool to get through and I'm stoked to surf again tomorrow."
"I'd just love to get on the Foster's ASP World Tour one day, but I don't have it on my full-time schedule just yet," continued Wilkinson when asked about his career hopes. "I'll try and improve year after year and when it happens, I'll go for it."
Current WQS No. 14 Jean da Silva (BRA) is hoping to qualify for the Dream Tour this year and his Rip Curl Boardmasters campaign will continue tomorrow after winning through his Round 3 heat today.
Heat 9 was a close-scoring heat, but the Brazilian did enough to finish in second behind fellow countryman Dunga Neta and ahead of Alex Gray (USA) and Matt Capel (GBR).
"I know there's always lots of things said and asked when you are ranked in the top 15, but we are not yet there and with ten big events still coming up, the only pressure I have is to surf my best," said da Silva. "When I'm out there, I don't think of the ratings when I'm standing on my board and that will continue."
Current WQS #16 Miky Picon (FRA) failed to requalify for the Dream Tour last year, but made another step in the right direction this year by winning through his Round 3 heat this afternoon. The goofy-footer placed second behind Txaber Trojaola (EUK).
"The small conditions are very tricky and quite demanding," said Picon. "I was under a lot of pressure in the last seconds, feeling like the waves were going away, but it finished well for me."
When asked about his WQS campaign this year, the 28-year-old replied: "Seeing how Jeremy Flores (FRA) is doing on Tour at the moment and how Tiago Pires (PRT) is dominating the WQS, it gives me all the motivation to join them."
"I'm feeling really good at the moment on my board and I can't wait to be in Hossegor soon and get a chance in the Rip Curl Pro Super Series."
Surfers and event organisers will meet at Fistral Beach at 6.30am again tomorrow, expecting another 7am start to Men's Rip Curl Boardmasters competition.