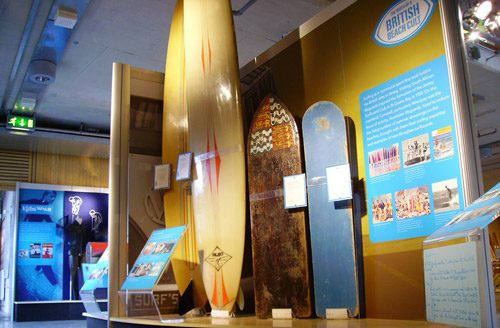 The sun may not be shining but you can still imagine yourself surfing the Cornish waves on a 1920s belly board at the National Maritime Museum Cornwall.
From Wednesday July 18 the Maritime Museum in Falmouth will be redisplaying part of the acclaimed surfing exhibition that the Museum first hosted in 2005.
Discover how the sport of surfing first arrived on Cornish shores and spread around the UK coastline to become the sport and industry it is today. Among the boards on display is a decorated 1920s belly board from Jersey and two of the earliest British-built surfboards from the 1960s. Also, you can see how wetsuits played an important part in the progress of UK surfing and find out how boards are built today.
Ben Lumby, Exhibitions manager commented: "Surfing has grown massively as a sport and it is huge in Cornwall now. But the first guys to paddle out there, right back in the early days, were doing something that was new to everyone. How surfing arrived on our shores and spread around the UK is a colourful story in itself".
This small but vibrant collection of giant surfing images and equipment through the ages will be on show until the end of September.