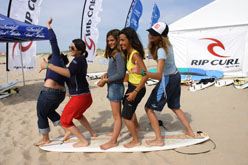 The Rip Curl Girls Tour will once again be providing girls with the opportunity to try surfing for the first time or improve on their surfing skills when the event launches during the Rip Curl Boardmasters (6th – 12th August 07). Girls will be offered half price lessons during the Boardmasters event, before the European Girls Tour moves on to six UK surf locations including Cornwall, Devon, Wales and the South Coast ( Bournemouth/ Brighton) the weekend of 18th and 19th August 07.
The event is exclusively just for girls – offering inspiration and confidence to any girl who wants to try something new or enhance their technique. Rip Curl pro surfer and model, Elise Garrigue, along with a selection of other Rip Curl riders, will be giving fellow surfers hints and tips in addition to the fully qualified instructors taking the lessons.
Tandem surf classes will also be on offer – a completely new element for the 2007 event, providing a unique experience for girls taking part. Health and Yoga workshops, BBQ's and evening parties will also be available as part of this year's surf tour.
Rip Curl Girls Tour is open to any age group and lessons cost £25 per two-hour session and £40 for the whole weekend.
Log on to www.RipCurl.com to find your nearest surf school.