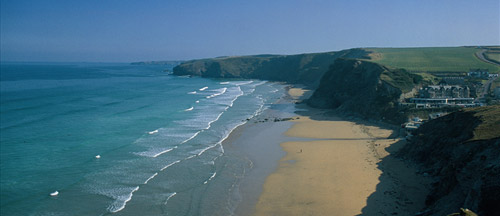 The Extreme Academy will host the penultimate – and quite possibly decisive – round of the British Longboard Union series of surfing contests next weekend.
The country's best longboard surfers will congregate at Watergate Bay on the weekend of 16th and 17th June to compete in the Oxbow Midsummer Classic, the fourth of five events which make up the 2007 BLU series.
With two events already completed and the third round in Jersey to be held the weekend immediately before (9th and 10th June), all eyes will turn to the renowned waves of Watergate Bay. With each surfer's best three results counting towards the titles, the 2007 BLU Champions are likely to be decided there.
"With so much at stake for so many of the surfers, we anticipate the Oxbow Midsummer Classic will be one of the most compelling contests of the year," said Will Ashworth, Managing Director of The Hotel and Extreme Academy, Watergate Bay.
"Watergate Bay is the local break for many of the top competitors, including Ben Skinner, Chris Thomson and Ben's sister Sophie, and it will be fantastic to see them competing on home territory. The sandbanks have been in great shape all spring, and combined with a good swell we could be treated to a classic event."
Two of the four divisions, the Masters and Juniors, are close to being decided following dominating performances from two surfers. Ben Haworth from North Devon has won both of the junior events so far this year, and a win in either Jersey or Watergate Bay would see him clinch the Junior Championship for a second consecutive year.
Similarly, Chris "Guts" Griffiths has won two events in the Masters division, and needs just one more win to guarantee him another title to add to his bulging trophy cabinet. One of Britain's most successful competitors, the Swansea surfer won the European Longboard Championships in 1997 and 1999 and has won a dozen Welsh and British titles.
With two second places in two events, Porth's Sophie Skinner is the most consistent surfer in the Ladies division this year. Marja Van Leuwen from St Agnes and Newquay's Louise West have each won one event, and the next two events will be critical.
The Open division is also wide open after two events. Elliot Dudley from Wales and Newquay's Adam Griffiths have each won one contest, with James Parry and Ben Skinner each claiming one second place. Skinner, who came second in the 2006 World Surfing Games, was joint winner of the 2006 Open division with Sennen's Sam Bleakley.
Also in with a chance of winning the Open division is Masters Champion elect Chris Griffiths, who is the only surfer to have made the final of each event so far.