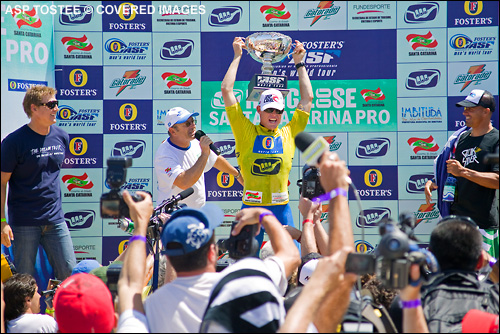 IMBITUBA, Brazil (Tuesday, Nov. 6, 2007) Australian Mick Fanning clinched his maiden Foster's ASP World Title after winning the Hang Loose Santa Catarina Pro in Brazil today. Fanning was in the water about to surf a semifinal heat against childhood friend Joel Parkinson (AUS) when Taj Burrow (AUS) was eliminated by Tom Whitaker (AUS) and his lifelong dream was realized.
"I woke up this morning and I just had a good feeling that it was going to happen today," Fanning said. "It was so amazing to be out there with Joel. When I realized I'd won I went, 'What do we do Joel?' and he was like, 'I don't know!' I was just so stoked to share my first ever heat as the World Champion with him. It was amazing."
Fanning surfed a signature heat to beat Parkinson 18.70 to 12.84 in Semifinal 1 before defending his Brazilian title by beating rookie Kai Otton (AUS) in the final to win the Hang Loose Santa Catarina Pro. The win marks his 9th Foster's ASP World Tour event win.
Americans Kelly Slater and Andy Irons have monopolized the World Title for the last five years but Fanning's win today makes him the first Australian to clinch a men's ASP World Title since Mark 'Occy" Occhilupo did so in Brazil in 1999.
"To take the reins over from Oc is incredible," Fanning said. "He is pretty much the legend of the sport. He's such a character and such a cool guy. Even when I've been on tour with Andy, he's such a determined guy as well and I was there for his first world title. And then there's Kelly – the guy who gave inspiration to every kid who surfs today, he's amazing."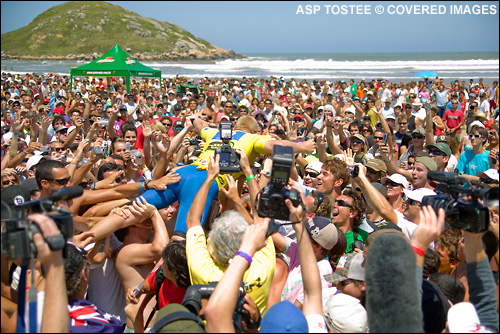 The 26-year-old's ascent to ASP World Champion has not transpired without tribulation. Raised by a single mother who now manages his career, Fanning lost his older brother Sean, also a gifted surfer, in a car accident as a teenager. The two were extremely close and Fanning felt his presence in the water today.
"It was so cool with Joel out there in the final and there was a dolphin out there, I'm not sure if it was my brother or what," Fanning said. "Every heat I've had today there has been a dolphin right there in the lineup, just chilling."
Born in West Sydney, Fanning, his siblings and mother moved to Coolangatta on the Gold Coast of Australia when he was very young. He grew up surfing with Parkinson and top rated surfer Dean Morrison (AUS) who are known collectively as the "Cooly Kids."
"Joel and Dean are the reason that I train so hard," Fanning said. "When I was a kid those guys used to smoke me all the time. I was always trying to be better than those guys."
Fanning made his Foster's ASP World Tour debut in 2002 after finishing No. 1 in the ASP World Qualifying Series (WQS) the year prior. An impressive 5th place finish his first year on the elite tour earned him highest rookie result of all time, an honor he now shares with 2006 Rookie of the Year, Bobby Martinez (USA).
Fanning's six-year professional career has seen him make a steady ascent to the No. 1 position he held for  the entirety of the 2007 season. After a 5th place debut in 2002, Fanning finished World No. 4 in 2003, World No. 3 in 2005 and 2006 and World No. 1 today.
Fanning's lowest rating on the Foster's ASP World Tour – World No. 7 in 2004 – came about after he suffered potentially career-ending injury half way through the season. He tore his hamstring from the bone in a freesurfing incident, but came back from that injury to win the first event of the 2005 season at his home break in Snapper Rocks.
"That's what life is," Fanning said. "It goes up and down. You've got to take the good with the bad and even though I was injured it was probably the best six months of my life. I didn't have to worry about surfing. I had fun with my friends and at the end of it I found the girl that I love and want to marry so even though it was bad for my body it was a million more times better for my mind and my heart."
Fanning is engaged to be married to long-time girlfriend and Gold Coast Model Karissa Dalton in February of 2008.
Fanning has epitomized consistency since winning the Billabong Pro Jeffreys Bay in South Africa in 2006, featuring in seven finals, three semifinals and two quarterfinals in the last 15 events. He won the 2007 Hang Loose Santa Catarina Pro today, along with the 2007 Quiksilver Pro France, the 2007 Quiksilver Pro Gold Coast, the 2006 Nova Schin Festival Brasil, the 2006 Billabong Pro Jeffreys Bay and finished runner-up in Tahiti this year and in France in 2006.
Parkinson, who didn't seem too fazed by his Semifinal loss was in the water when his close friend won and was moved by their heat together.
"It was pretty cool, we were speechless," Parkinson said. "It was me Mick and a dolphin was circling around us for ages, doing laps. We were like, "Can you even believe this is happening!" He was talking about how the whole last week he's been stressing and how ironic it was that it was us in that heat together."
Occhilupo arrived on the scene to congratulate Fanning after hearing the news.
"I get goosebumps just thinking about it," Occhilupo said. "Yesterday I wanted to go home, but when Mick won the title today I was straight in my car and then jumping over every single heat to give him a cuddle. It's been eight years and we've got it back to Australia. I don't want to say too much, but I think it might stay there a long time."
Otton was another Australian who shone today. Though he was disappointed to lose the Final, the rookie couldn't help but be pleased at cracking the Top 10 on the ratings and surfing in his first ever World Tour final. He's rated 9th now.
"It's been amazing," Otton said. "To make your first final feels good. I thought getting 3rd at Teahupoo was good, now to do this here is just incredible. With all of the circumstances today, Mick winning, it's just been a dream day for Australia really."
Otton is now one place behind first-year surfer Jeremy Flores (FRA) and the two will have to battle it out for 'ASP Rookie of the Year' honors in Hawaii.
"All I wanted was a chance at 'Rookie of the Year' in Pipe so we'll see what happens," Otton said. "I got a bit rattled in the middle of the year thinking about it and I think that's what happened. Then I've come here and I was thinking it was out of reach so I just tried to make heats and now we're going to Pipe, so we'll see what happens."
Australian Tom Whitaker (AUS) earned a Semifinal berth against Otton when he beat Burrow in the Quarters and was in the water when Fanning clinched the title.
"I'm really close with both of those guys," Whitaker said. "I gave Mick a big hug out there. Him and Joel are best mates and they were super stoked. Then I looked around and there's one of my best mates paddling over who I'd effectively knocked out of the world title race."
Though Burrow's title hopes were dashed by Whitaker earlier in the day, the current World No. 2 was on hand to celebrate with Fanning.
"It took me a little while to smile because I was kind of in shock but I'm obviously really stoked for Mick," Burrow said. "It's an Aussie world champ and if it's not going to be me I'm glad it's Mick. He's showed that much determination and focus that he earned it. I'm really stoked for him and I'm happy with my year. It's the best year I've ever had and I'm going to roll it into next year and realize its there for the taking."
Eight-time World Champion Slater also had a longshot at the title before losing to Otton in Round 4.
"Part of me came here for Mick because I knew he had a really good shot at winning the title in Brazil," Slater said. "But I thought, if I'm going to show up, I'm going to give it my best shot. I had priority with 10 or 11 minutes to go and a left came and I thought there was a better one behind it so I let him go and it really sealed the deal right there. I got KOd, Kai Otton-ed.
The last event on the Foster's ASP World Tour will commence in Hawaii on Dec. 7. Visit the media center online at www.aspworldtour.com for more details as well as www.ripcurl.com.
Fanning's 2007 Foster's ASP World Tour Results:
Hang Loose Santa Catarina Pro: 1st
Quiksilver Pro Gold Coast: 1st
Rip Curl Pro Bells Beach: 3rd
Billabong Pro Tahiti: 2nd
Rip Curl Pro Search Chile: 3rd
Billabong Pro Jeffreys Bay: 3rd
Boost Mobile Pro Trestles: 17th
Quiksilver Pro France: 1st
Billabong Pro Mundaka: 3rd
Fanning's Year End Foster's ASP World Tour Placings:
2007: World No. 1
2006: World No. 3
2005: World No. 3
2004: World No. 7
2003: World No. 4
2002: World No. 5
Fanning's Foster's ASP World Tour Victories:
Hang Loose Santa Catarina Pro, Brazil (2007)
Quiksilver Pro, South West Coast, France (2007)
Quiksilver Pro, Gold Coast, Australia (2007)
Nova Schin Festival, Imbituba Brazil (2006)
Billabong Pro, Jeffreys Bay South Africa (2006)
Rip Curl Search, Saint Leu, Reunion Island (2005)
Quiksilver Pro, Gold Coast, Australia (2005)
Billabong Pro, Jeffreys Bay, South Africa (2002)
Rip Curl Pro, Bell's Beach, Australia (2001)
Foster's ASP World Tour Ratings after Event No. 9 of 10, the Hang Loose Santa Catarina Pro:
1. Mick Fanning (AUS)    8136 points
2. Taj Burrow (AUS)    6782 points
3.  Kelly Slater (USA)    6516 points
4. Joel Parkinson (AUS)     6156 points
5. Andy Irons (HAW)    4966 points
6. Bede Durbidge (AUS)    4799 points
7. Bobby Martinez (USA) 4582 points
8. Jeremy Flores (FRA)    4580 points
9. Kai Otton (AUS)    4378 points
10. Taylor Knox (USA)    4309 points