Movistar Pantin Classic 20th Edition
ASP Men's 4 STAR / Women's 3 STAR World Qualifying Series (WQS) event
ASP Men's European Pro Surf Tour Stop #9 / Women's Final Stop
Pantin – Spain
Prizemoney US$ 75,000 / US$ 15,000
4 September – 9 September 2007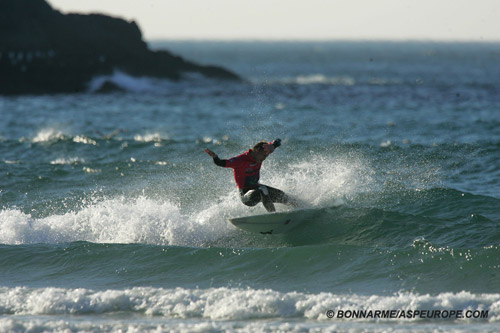 MARLON LIPKE (DEU) AND PAULINE ADO (FRA) WIN MOVISTAR PANTIN CLASSIC !
LEE ANN CURREN (FRA) CLINCHES 2007 WOMEN'S EUROPEAN PRO SURF TOUR TITLE !

Marlon Lipke (DEU) clinched the Movistar Pantin Classic 4 Star WQS event today in Spain, winning 1500 pts and US$10 000 for his crown. In a close final where he met Darren O'Rafferty (AUS), Eneko Acero (EUK) and WQS #12 Aritz Aranburu (EUK), the german surfer dominated the last heat of the event.
Starting his last 25 minute battle in the 1 to 2 ft conditions with an impressive 8.67 out of possible 10, Lipke took a direct option for his second crown of the year. Wrapping up his 2007 campain in Pantin with a solid 7 pts ride, he left no chance to his closest follower Darren O'Rafferty (AUS).
Looking confident despite his weight and usual power surfing, he waited for the best sections and went on for some big frontside cutbacks, carving his way up to victory. Finishing this epic event the best heat score (18.10 pts in round 3), and the second best wave score (9.27 pts in round 3), Lipke showed consistency throughout the nerve testing week.
"I'm stoked to win a 4 Star WQS event. It's just something I've been aiming at for years and to win it in these tough conditions makes it really unforgettable. We had such a hard time waiting for the waves everyday, running with the women as well and trying to make it to the end."
"I'm glad it keeps me in the European Pro Surf Tour race but I don't really think of any ratings. All I focus on is my surfing and it seems to work good. Still lots of big events coming up but this is a good fresh start after the tough summer and all the main WQS we went through."
At 16-years-old, Pauline Ado (FRA) seized the Caixanova Surfing Girls 3 Star WQS, staying on the great roll that already gave her a runner-up finish in the Rip Curl Boardmasters 5 Star WQS and the 2007 ASP Europe Women's Junior title.
Using her experience and light weight in the small waves, the french surfer from Hendaye, France, found her way out of the tricky final where she met junior rival Alizée Arnaud (FRA) and Marie Dejean (FRA), and experienced competitor Estitxu Estremo (EUK).
After a few throw-up scores, Ado stood up and found a solid 6.83 out of possible 10 to get away from her opponents, using her opening 3.67 pts score as a back up to finish ahead with a two wave combined tally of 10.60 points out of possible 20. Remaining very close until the last seconds, Alizée Arnaud surfed an ultimate good wave to get a 5.17 reward, jumping to second place to finish with 9.50 points out of possible 20.
"I've had a great time in the pas two weeks. I made the final in the Rip Curl Girls Festival 2 Star Junior event, got the european title and now this 3 Star WQS title. I'm stoked to make it… The waves were so hard to surf, I just did my best and it ended close between Alizée and I but I got this one."
In the women's semifinals, Lee Anne Curren's (FRA) elimination was the main upset. Leader of the Women's European Pro Surf Tour before Pantin, she left her closest follower Marie Dejean the opportunity to seize the crown in the last heat of the year. Fortunately, with Ado's victory Curren wins her first European Pro Surf Tour title and leaves Spain with a great achievment.
"I was pretty stressed when I found out that Marie Dejean could get the title away from me. I knew she would have a tough time with the rest of the girls in the final but she had all the potential to make it so I was definitely watching."
"I am relieved even if I would have loved to win my third event of the year. I wanted to get this title and it's done so congratulations to all the girls and I hope this will give a good start for the WQS events coming up."
Talking about her plans for the rest of the year, "I'm going to try and see what happens on all the main WQS events around the world next year. I'd love to make it one day to the ASP Women's World Tour so I'll have to learn and I think I am ready to start soon."
The 2007 Movistar Pantin Classic ended with three new champions, crowning Lee Ann Curren (FRA) Women's European pro Surf Tour Champion, Pauline Ado (FRA) Caixanova Surfing Girls 3 Star WQS Champion and Marlon Lipke (DEU) the 4 Star WQS event champion.
Final
Marlon Lipke (DEU) 15.67 pts, Darren O'Rafferty (AUS) 13.60 pts, Eneko Acero (EUK) 12.40 pts, Aritz Aranburu (EUK) 8.63 pts
Men's Semifinal #1
Darren O'Rafferty (AUS) 12.77 pts, Eneko Acero (EUK) 12.17 pts, Antonio Bortoletto (ZAF) 7.77 pts, Luke Dorrington (AUS) 6.87 pts
Men's Semifinal #2
Marlon Lipke (DEU) 14.87 pts, Aritz Aranburu (EUK) 14.17 pts, Alex Gray (USA) 13.47 pts, Eric Rebière (FRA) 9.10 pts
Women's Final
Pauline Ado (FRA) 10.60 pts, Alizée Arnaud (FRA) 9.50 pts, Estitxu Estremo (EUK) 8.10 pts, Marie Dejean (FRA) 5.80 pts