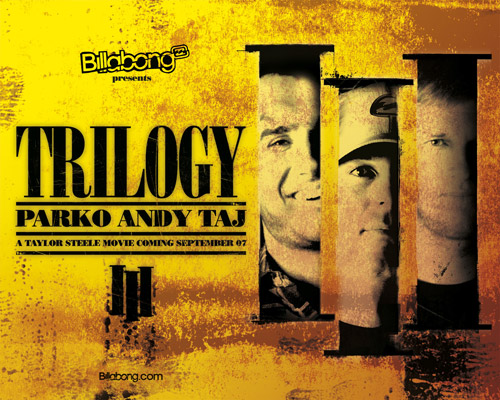 The Andy, Parko, Taj Movie: Trilogy
Some say three is the magic number.  You've got the past, the present and the future.  The heart, brain and body.  And now, with the help of legendary filmmaker Taylor Steele, Billabong brings you Trilogy, the Andy, Parko, Taj motion picture.
Andy Irons (Kauai, Haw), Taj Burrow (Yallingup, WA) and Joel Parkinson (Coolangatta, QLD) are three of a kind.  All completely different in background, personality and style yet sharing one universal characteristic, the ability to blow minds in the water and redefine the parameters of modern day surfing.
In 2007, Billabong and Taylor Steele are coming together to bring you a rare insight into the lives and skills of three of the greatest surfers of all time.
It has been a hectic year of filming for the talented trio, travelling the globe in between busy world tour schedules and sponsor commitments to lock down solid sessions ranging from Europe, Morocco, Bali, Mexico and Hawaii.
While all three have featured in Steele's previous films including Momentum: Under the Influence and Campaign I and II it is the first time they have come together to create a dedicated feature film surrounding their lives.
For three-time world champion Irons, Trilogy marks his first dedicated feature since his appearance alongside free-surfer David Rastovich in the critically acclaimed picture Blue Horizon.
Starring alongside tour rivals and Billabong stable mates Parkinson and Burrow, Irons said the filming schedule has created a unique environment to showcase his level of surfing.
"The filming of Trilogy has been awesome so far, we got killer waves in Mexico and then really good waves in Bali," said Irons.  "All in all it has been a really good time, just hanging out with Parko and getting some good footage and then cruising with Taj a bit."
"Those two guys pretty much have the most amazing sections in any surf movie and they are my favourite guys to watch, to be in a movie with those guys is going to be really cool."
Growing up with the inspiration of Steele's original "Momentum Generation" films, Trilogy showcases the explosive and unpredictability of Irons surfing like no other surf flick before it.
"Taylor is the man, he is definitely the guru," said Irons.  "I have been watching his surf films like Momentum ever since I was a grommet and they always amped me up to go surfing."
"To now be in his surf vids and on his crew is huge," he said.  "When you think you've got the best surfers and the best guy making it, it's bound to be awesome."
For Steele, Trilogy, and the ability to work closely with three of the earths most talented wave riders is a unique opportunity to redefine the parameters of what is possible on a wave and on film once more.
Responsible for unleashing the original "Momentum Generation" onto the world in the early-mid nineties, Steele remains at the forefront of surf film making to this day.  His impressive list of cult surf classics include Momentum I and II, Focus, The Show, Good Times, Loose Change, Campaign and the popular Drive Thru Series.
"I have found that most top surfers are really busy these days," said Steele.  "With all the CT's and other commitments it's tough, yet all of these guys have been great."
"They power when we are on a trip and if the waves are good they won't come in."
On paper, the film has the potential to rival any of the Californians film maestro's previous works but never one to talk it up, Steele remains guarded on just how good the film is looking.
"I don't want to claim anything, that is not my style but my goal going into any project is to make it than my previous ones," he said.  "This one is shaping up to do that and I want this film to show who these surfers are and show how crazy they surf.
"The movie will definitely be more rock n roll than mellow."
Trilogy will be Billabong's second collaboration with Steele after Campaign II was released in 2006.  With a solid filming scheduled from now until July, the film is due for release in the USA this September and Globally throughout October.
The release date will also encompass a series of global premieres where the stars of the film will attend.  The European premieres will be on October 5th and 6th, 2007, during the Billabong Pro Mundaka.  A giant screen will be up in the middle of the village, so you can watch it from about everywhere in the contest area, or down from the port, having a fresh cold beer at the Txopos.
Stay logged to www.trilogymovie.com for all the updates, exclusive trailers, surfer blogs and images from behind the scenes.