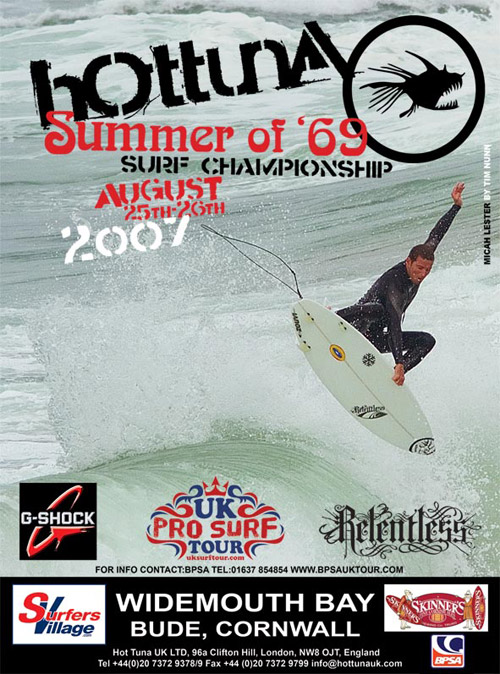 UK Pro Surf Tour – Event 3
Widemouth Bay Bude
25th 26th August 2007
The next scheduled tour date for the 3rd leg of the UK Pro Surf Tour is The 2007 "Summer of '69" Hot Tuna Pro surfing championship, set to start August 25th through August 26th at Widemouth Bay in Bude. The Uk Pro Tour's Hot Tuna event will now be known as a travelling event, changing locations year on year to give a fresh look to the event through the mid summer month.
Widemouth has breaks along the entire beach and works best on mid to high tide up to 6 ft. It is a favourable venue for Tour surfers looking to gain valuable points toward the prestigious year and to end holding the UK Pr Tour Title. Divisions include Men's Open, worth £3000, Women's Open, worth £500, U'16+U'12 Grommet Comps and the Relentless Money Move, offering £250 for the best move over the entire weekend. Grommet Finals are scheduled to take place on Saturday with the Open and Women's final on Sunday 26th August.
With G-Shock, our new Tour sponsors aboard for this year, providing us with the first mobile contest seen on the UK Pro Tour, for the first time ever it will be possible for the judges to have an indoor judging area set up, a media accreditation room and surfers lounge- greatly adding to the infrastructure for the 2007 tour. Micah Lester, last years tour winner and sponsored rider of Hot Tuna says;
"I am glad to be back on tour for yet another year running, I am focussed more than ever and from spending time back home in Australia surfing great waves, I am ready for the next leg of the tour and hope to do well holding onto my title for another year running."
Toby Akins, Hot Tuna rider, went on to further say;
"I am fully focussed on surfing this year. I am only just out of injury from hurting my ankle and look forward to what sounds like an exciting new and improved year for the tour- I can't wait!
Currently leading the tour is Newquay lad Mark 'Egor' Harris, UK Tour Champ in 2003. Egor is one of the best UK surfers and a popular surfer on tour. A tour victory by Egor would be a popular one but all the other surfers will be out to stop him, not least Hot Tuna team riders Toby Atkins and Micah Lester.
In addition to surfing, spectators and athletes can expect to enjoy many beach-related activities at this seaside sporting venue and in the surf-stoked town of Bude. During the competition, Hot Tuna will be inviting all the surfers and families to enjoy a barbecue and complimentary beer as well as a party at Widemouth Manor, close to the event site.
You will also be able to sit back and enjoy skinners ale who will be supporting the rest of the tour alongside relentless energy drink and of course our new tour sponsors G-shock.