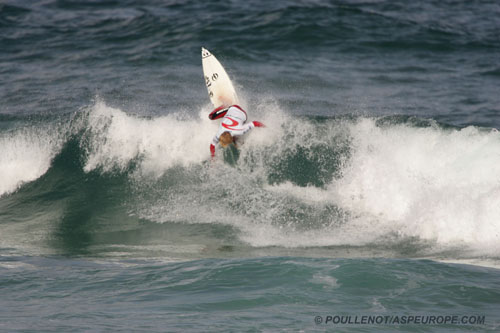 Despite some early wet weather this morning at Newquay's Fistral Beach, the Rip Curl Boardmasters launched into action at 8am this morning with the opening round of the 5 star Men's World Qualifying Series (WQS) contest.
The opening round featured 12, four-man heats, with the event's unseeded competitors battling the tricky 2-3ft (0.5-1m) surf in 20-minute spurts.
Eight British surfers paddled out in Round 1, all hopeful of winning through their opening heats and impressing the large local crowd.
Mark Harris (GBR), Sam Lamiroy (GBR), Matt Capel (GBR), Oli Adams (GBR) and Johnny Fryer (GBR) all won through their Round 1 heats, advancing to the 'Round of 144'.
Lamiroy was one of the early standouts, defeating former ASP Europe Pro Junior winner Josch Scmeltzer (ZAF) and Joss Ash (GBR).
"I'm glad I made this one, I just checked the heats yesterday and realized I would be out in the water very early," said Lamiroy. "It ended very good for me, so I'm just happy to get through."
Lamiroy was later eliminated in Round 2 by former 2004 European Pro Surf Tour champion Justin Mujica (PRT).
South African surfer and 2005 Rip Curl Boardmasters Champion Antonio Bortoletto was another of today's standouts, starting his 2007 Boardmasters campaign in strong form in Heat 10. Bortoletto started the 20-min heat slowly, but eventually found some rhythm and scored a convincing 6.50-point ride to cement the heat win.
"I was expecting this heat to be tough and I am pretty satisfied to get through it," said Bortoletto. "The conditions are always tricky here and even though I have been here before and made the final, I know it is never easy."
"I'd like to get another great result here, but I'm just trying to stay focused and get the right place out there to catch the best waves."
USA native Shaun Burrell is enjoying his fourth year in a row competing the Rip Curl Boardmasters, but the Californian didn't feel confident going into his Round 2 heat against fellow countrymen Dane Gudauskas, Killian Garland and Australian Luke Dorrington.
Burrell turned it on from word go though, linking section after section on an early set wave to lock in a 7.33-point ride to take first place.
"I'm stoked I have finally made a heat here," laughed Burrell, who had been defeated in every heat he had surfed at the Rip Curl Boardmasters in the past three years. "The conditions are so tricky and with the wind blowing so hard, I was need to paddle for a righthander and end up going from one section to another just to take the most out of the scoring potential."
"I'm just hoping I'll have fun for the whole month in August and if I can get some better results than in the past it will positive for me."
Tomorrow (August 8) will see the Rip Curl Boardmasters Men's WQS make its way through to Round 3, which will introduce the contest's top seeded surfers to this year's competition.
Round 3 will see several Foster's ASP World Tour surfers suit up and compete tomorrow, including Adrian de Souza (BRA), Bernardo Miranda (BRA), Ben Dunn (AUS), Shaun Cansdell, Adrian Buchan (AUS) and Troy Brooks (AUS).
Other high profile surfers set to compete tomorrow include 2005 World No. 8 Nathan Hedge and Great Britain's most successful surfer Russell Winter.
Surfers and event organiser will meet at Fistral Beach at 7am tomorrow morning, expecting an 8am start to competition.
For more information and on demand video, please log on to: www.ripcurlboardmasters.com