JEFFREYS BAY, South Africa (Saturday, July 21, 2007) – Australian Taj Burrow beat eight-time Foster's ASP World Champion Kelly Slater (USA) to win the Billabong Pro Jeffreys Bay today. The victory is Burrow's second on the 2007 Foster's ASP World Tour and has moved him to World No. 2 on the ASP ratings.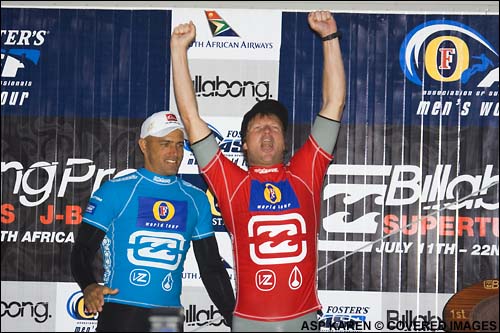 "It feels amazing!" Burrow said. "I'm so stoked to have won two events. I've had so many bridesmaids over the last couple of years and to get this monkey off my back, it just feels really good!
Burrow overcame current ratings leader Mick Fanning (AUS) and World No. 5 Joel Parkinson (AUS) en route to his victory over Slater today.
"I had a pretty tough draw, but if you start getting hard guys early in you just gain momentum and confidence and everything," Burrow said. "It was a pretty gnarly draw but it all ended up working pretty well!"
Burrow featured in the final at the Billabong Pro Jeffreys Bay last year but finished 2nd. His win today is his first at the venue.
"This win is huge for me," Burrow said. "It's one event that I've always just loved. I love coming here and I always feel comfortable. The water is the same temperature as home, the weather is pretty similar and any kind of right hander like this gets me pretty excited! It's an event that I've always wanted to do well in and it has all come together!"
Current world No. 1 Mick Fanning (AUS), world No. 7 Damien Hobgood (USA) and world No. 3 Andy Irons (HAW) have also won events this year, but Burrow is the only surfer with two in his scoreline this season.
"I had a 1st and 3rd and then a 9th and a 17th, which isn't so good," Burrow said. "The whole event I'm going, 'Win this thing and you'll have a 1st, 1st and a 3rd!' I just kept thinking that and I'm pretty stoked because I have three keepers now. I'm bummed about those other ones, but this is all I can do at this event so I'm stoked!"
Slater, who won the event in 1996, 2003 and 2005, caught 12 waves to Burrow's four but still needed a combination of excellent scoring waves to beat Burrow.
"The mind even got tired out there," Slater said. "I was just tired, I don't know the last time I surfed four heats in a day. In the final I was going to need a wave that scored 8.00 plus to keep in that heat and I didn't have one. I had one in the beginning which I fell on, which might have kept me in there with a chance. I was just tired mentally and physically at that point and Taj put it together. He made me sit out in the water and wait a bit which I was kind of bummed about. But it paid off for him."
Slater's final berth today is his first of the 2007 season. The reigning world champion featured in five finals last year. He won the first two events of 2006 but finished runner-up in Mundaka, Spain; Lower Trestles, California and Pipeline, Hawaii.
"It's a little bit frustrating but I have had a number of finals go my way too," Slater said. "I think I've won four out of five finals I have been in in the past and now I have only won one out of the last five, or two out of the last six. That's a little frustrating, but I guess it is something for people to talk about. If I let it get to me, it'll put a little pressure on me, but sometimes that's the thing to get you going. I was thinking in the water, 'Maybe this 2nd will bring me to life, more than winning would.' This will probably get me a bit more motivated for the next one."
Slater peaked in the Quarterfinals when he scored 19.23 out of 20.00 possible points – the highest heat total of the event. His 9.70 and a 9.53 in that heat were the 2nd and 3rd highest wave scores of the event –only Burrow's perfect 10.00 in Round 2 was higher.
Slater has moved from 6th to 4th in the ratings with his result in Jeffreys Bay today and can now be considered a threat in the 2007 ASP World Title race.
"It looks like a few people are shaping up to be in the hunt," Slater said. "Mick is still the runaway guy, but me and Taj gave ourselves a move here. I'd imagine both of us moved up a spot here. I definitely got myself going in a positive direction and it is just playing catch up now. I'd probably be somewhere close to Andy, so it will be a little more interesting from now on. If Mick doesn't get his result at Trestles, I am sure that the rest of us will be looking to get something good."
Slater sought sweet revenge in Semifinal 2 when he narrowly beat Dean Morrison (AUS) 13.83 to 13.76. Morrison beat Slater in Round 4 at the last Foster's ASP World Tour event in Chile. Morrison took out Irons in the Quarterfinals today but came up short in the Semis.
"It's always hard when one guy thinks he got the short end of the stick, but it happens to everyone at some point," Slater said.
Semifinal 1 served as a replay of last year's Billabong Pro JBay Final but with Burrow getting the better of Fanning this time.
"Taj surfed insanely the whole event, so he surfed good, it was just one of those heats," Fanning said. "You get to the semis and you want to make that final, but it just gets you more fired up really."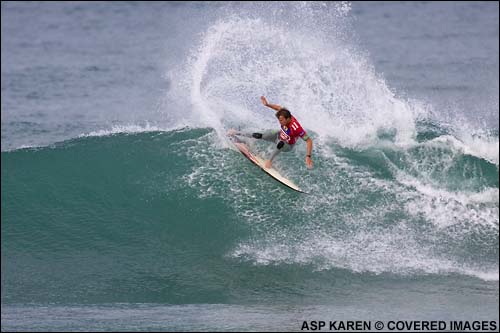 Fanning's consistency remains unchallenged this year but he knows as well as anyone how critical it will be to maintain his current form.
"I've had three 3rds and a 1st and a 2nd, so it's a good start, the pressure is more on those guys who have to pick up results," Fanning said. "I've just got to keep getting them.
The Foster's 45 will now enjoy a six week break before reconvening at Lower Trestles, California in September.
Billabong Pro Jeffreys Bay Final Results:
Taj Burrow (AUS) 16.50 def. Kelly Slater (USA) 6.17
Billabong Pro Jeffreys Bay Semifinal results:
Heat 1: Taj Burrow (AUS) 17.67 def. Mick Fanning (AUS) 15.17
Heat 2: Kelly Slater (USA) 13.83 def. Dean Morisson (AUS) 13.76
Billabong Pro Jeffreys Bay Quarterfinal results:
Heat 1: Taj Burrow (AUS) 17.33 def. Joel Parkinson (AUS) 16.50
Heat 2: Mick Fanning (AUS) 14.93 def. Daniel Wills (AUS) 12.34
Heat 3: Dean Morisson (AUS) 12.66 def. Andy Irons (HAW) 11.50
Heat 4: Kelly Slater (USA) 19.23 def. Adriano de Souza (BRA) 15.33
Billabong Pro Jeffreys Bay Round 4 results:
Heat 1: Joel Parkinson (AUS) 13.66 def. Taylor Knox (USA) 7.00
Heat 2: Taj Burrow (AUS) 16.00 def. Adrian Buchan (AUS) 9.17
Heat 3: Daniel Wills (AUS) 15.83 def. Travis Logie (ZAF) 11.10
Heat 4: Mick Fanning (AUS) 15.66 def. Pancho Sullivan (HAW) 4.84
Heat 5: Andy Irons (HAW) 13.66 def. Fred Patacchia (HAW) 6.13
Heat 6: Dean Morrison (AUS) 12.50 def. Bobby Martinez (USA) 5.17
Heat 7: Kelly Slater (USA) 16.17 def. Luke Stedman (AUS) 12.23
Heat 8: Adriano de Souza (BRA) 15.00 def. Bede Durbidge (AUS) 14.53
Foster's ASP World Tour Ratings after the Billabong Pro Jeffreys Bay:
1. Mick Fanning (AUS) 4860 points
2. Taj Burrow (AUS) 4286 points
3. Andy Irons (HAW) 3921 points
4. Kelly Slater (USA) 3840 points
5. Joel Parkinson (AUS) 3804 points
6. Damien Hobgood (USA) 3599 points
7. Bede Durbidge (AUS) 3057 points
8. Daniel Wills (AUS) 2942 points
9. Dean Morrison (AUS) 2838 points
10. Travis Logie (ZAF) 2810 points