JEFFREYS BAY, South Africa (Friday, July 13, 2007) –World No. 1 Mick Fanning (AUS) dominated day three of the Billabong Pro Jeffreys Bay much the way he's commanded Foster's ASP World Tour competition since winning the event last year.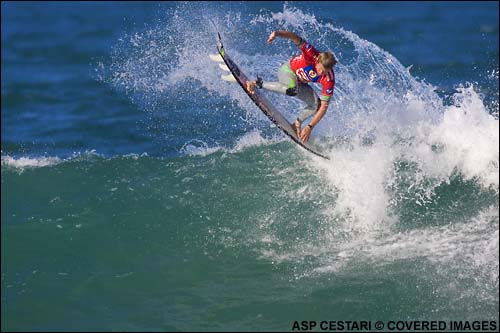 Fanning has finished in the quarterfinals or better in each of the 10 elite tour competitions since that victory, a feat that has positioned him as the most consistent surfer on tour the past 12 months. His 15.34 to 9.27 win over wildcard Shaun Payne (ZAF) earned him the second highest combined total of the 19 heats run today – the first, a 16.83, was posted by Joel Parkinson (AUS).

"I am just more relaxed," Fanning said. "I have been to every event a fair few times now so I just get comfortable and remember when I have done well in those events and what worked, you know, that's all it is – just getting comfortable."
Andy Irons (HAW) comfortably defeated wildcard Warwick Wright (ZAF) but not before watching Fanning do the same to his wildcard foe the heat prior.
"I watch what Mick is doing," Irons said. "I watch his surfing like I used to watch Kelly's but I try not to let it affect me too much and I don't try to do what they're doing because I'm not them. I am a different surfer and I will probably fall or dig rail surfing like them. It definitely motivates me to try harder in my heats though."
The elimination of World No. 2 Damien Hobgood yesterday has laid the foundation for a friendly Irons and Fanning rivalry. Mick Lowe (AUS) had a less friendly encounter in his Round 2 heat against Phil Macdonald (AUS).
"I saw a shark," Lowe said. "Phil caught a wave and while the wave was feathering across from Boneyards, I saw it. It did a U-turn to head back and it was no dolphin, it had a girth on it. I saw its white belly and I've never seen one before, but I have seen them on the TV and that's exactly what it looked like."
Lowe won his heat but was quick to check to clarify protocol with event staff once back on safe shores. Taj Burrow (AUS) surfed a few heats later and won as well, but was definitely on guard given he had a shark sighting of his own in 2003.
"Lowe spotted a shark, claiming it was a great white and we know they are out there so I was sort of freaked out," Burrow said. "I think they introduced a new rule today, if you see a shark, you wave your hands in the air, point at the water and head in. When the Beach Marshall gave me my singlet and told me to do that if I saw a shark, I was like 'what!' It was pretty freaky. I am glad I didn't have to put my hands in the air that heat!"
South Africans Greg Emslie and Travis Logie may be more accustomed to the sharky conditions than their Foster's ASP World Tour counterparts, but it was Logie who looked most at home at today. He beat Emslie in a rather one-sided affair.
"Greg is a very good competitor and JBay suits his surfing to a tee, so I knew I was up against it," Logie said. "But my boards were going really good and I was patient waiting for some good ones and didn't make any mistakes so I think I surfed a pretty smart heat."
Logie is the last of seven South Africans who were seeded into the Billabong Pro Jeffrey's Bay. He is currently rated equal 9th on the Foster's ASP World Tour.
"It is my third year now and I think I am finally starting to feel really comfortable in the man on man heats and starting to use my priority the right way," Logie said. "It has been a good consistent year for me and hopefully I can move on to bigger things from here."
Brazilians Rodrigo Dornelles and Bernardo Miranda won their Round 2 bouts and will surf Round 3 when competition recommences.
Another call on competition status will be made tomorrow at 7am. There are seven more heats of Round 3 to run in addition to Round 4, the Quarters, Semis and Final – approximately one and a half days of surfing are required to wrap up the Billabong Pro Jeffrey's Bay.
Visit the media center on www.aspworldtour.com for transcribed athlete interviews, downloadable wav files, hi-res images, heat by heat updates and more.
Today's Round 3 Billabong Pro Jeffreys Bay Results:
Heat 1: Joel Parkinson (AUS) 16.83 def. Trent Munro (AUS) 10.90
Heat 2: Taylor Knox (USA) 12.07 def. Ricky Basnett (ZAF) 11.83
Heat 3: Adrian Buchan (AUS) 12.50 def. Jeremy Flores (FRA) 9.00
Heat 4: Taj Burrow (AUS) 13.83 def. Neco Padaratz (BRA) 6.00
Heat 5: Danny Wills (AUS) 14.67 def. Royden Bryson (ZAF) 8.34
Heat 6: Travis Logie (ZAF) 14.33 def. Greg Emslie (ZAF) 10.90
Heat 7: Pancho Sullivan (HAW) 9.33 def. CJ Hobgood (USA) 6.66
Heat 8: Mick Fanning (AUS) 15.34 def. Shaun Payne (ZAF) 9.27
Heat 9: Andy Irons (HAW) def. Warwick Wright (ZAF) 10.33
Remaining Round 3 Billabong Pro Jeffreys Bay Match-Ups:
Heat 10: Chris Ward (USA) vs. Frederick Patacchia (HAW)
Heat 11: Bobby Martinez (USA) vs. Michael Lowe (AUS)
Heat 12: Dean Morrison (AUS) vs. Bernardo Miranda (BRA)
Heat 13: Kelly Slater (USA) vs. Luke Munro (AUS)
Heat 14: Michael Campbell (AUS) vs. Luke Stedman (AUS)
Heat 15: Bede Durbidge (AUS) vs. Rodrigo Dornelles (BRA)
Heat 16: Bruce Irons (HAW) vs. Adriano de Souza (BRA)
Today's Round 2 Billabong Pro Jeffreys Bay Results:
Heat 7: Jeremy Flores (FRA) 14.84 def. Troy Brooks (AUS) 11.84
Heat 8: Michael Campbell (AUS) 11.67 def. Mark Occhilupo (AUS) 9.00
Heat 9: Chris Ward (USA) 14.66 def. Shaun Cansdell (AUS) 11.40
Heat 10: Rodrigo Dornelles (BRA) 14.10 def. Ben Dunn (AUS) 11.83
Heat 11: Pancho Sullivan (HAW) 15.66 def. Dayyan Neve (AUS) 11.57
Heat 12: Fredrick Patacchia (HAW) 12.67 def. Victor Ribas (BRA) 6.83
Heat 13: Michael Lowe (AUS) 11.84 def. Phillip MacDonald (AUS) 7.17
Heat 14: Bernardo Miranda (BRA) 13.00 def. Raoni Monteiro (BRA) 12.00
Heat 15: Adrian Buchan (AUS) 14.67 def. Josh Kerr (AUS) 11.40
Heat 16: Ricky Basnett (ZAF) 11.83 def. Leonardo Neves (BRA) 8.83