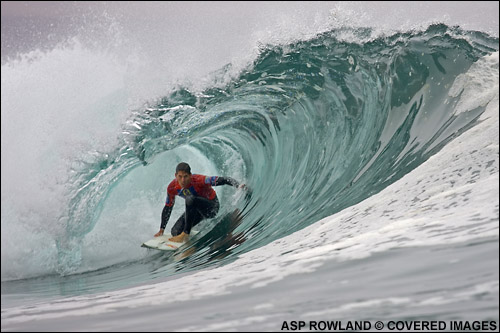 ARICA, Chile (Thursday, June 28, 2007) – Defending Rip Curl Pro Search champion Andy Irons (HAW) found the form to grab another globe-shaped trophy with his win over Damien Hobgood (USA) in Arica, Chile today.
"They're the best trophies – they're epic," Irons said. "They're my favorite trophy and I've got one for the living room and one for the mantle now."
The former 3X Foster's ASP World Champion bested Hobgood 16.84 to 8.67 in the four foot (1.3 metre) waves off Ex Isla Alacran.
"It was a battle," Irons said. "I was hitting the reef and getting worked, but I tried to play it smart and catch the inside waves. Damien was waiting for the sets and it was almost better to not have priority because I caught whatever came in. You can never count Damien out though; he has beaten me before in Tavarua so I knew I had my work cut out for me. With two minutes to go, I was still nervous."
Irons held the heat lead throughout the 35-minute bout, but cemented it with a 9.17 late in the game.
"It was a set wave and kind of bumpy," Irons said. "Damien was paddling out and I got in just underneath it. When I was coming out, I did an extra stall to make sure that I got behind the hook. I came out with a bit of emotion to show them I liked it and it paid off.

Irons jumped from 7th to 3rd on the Foster's ASP World ratings today and is in a position to jump even higher after ratings are adjusted citing his last place finish in the first event of the year. Surfers drop their worst two results after event No. 8 of the 10-stop Foster's ASP World Tour. The Rip Curl Pro Search Chile is Stop No. 4 of 10 on the often deemed 'Dream Tour.'
"I didn't go anywhere," Irons said of his absence in the Top 3. "I was always right there in the World Title race. I just had one bad contest that I'm throwing away and I can't wait. It's game on."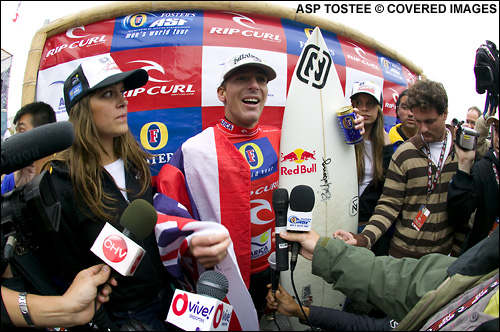 Rip Curl Pro Search Runner-up Damien Hobgood is also putting together a silent world title assault. After winning the last event on the calendar in Tahiti, he has moved to World No. 2 with his 2nd place finish today.
"I'm super stoked but I would have definitely like to put on a bit better performance in the Final," Damien Hobgood said. "Andy was just too good though and he put the pressure on early. He's such a good surfer; maybe I was thinking too hard out there. I never really got anything going and he kept building. I never really had a chance."
Damien met his twin brother CJ for the third time in man-on-man competition in the semifinals. Damien defeated CJ and now leads him 2:1 in brotherly bouts. The close heat went to Damien who scored an 8.00 and 5.13 to CJ's 5.83 and 6.50.
"I think it came down to Damien falling on his first wave and me falling on my best wave," CJ Hobgood said. "I was trying to get deep, then got on my back foot, then couldn't get back on my front foot. I didn't come out and it was probably the score. I blew that wave and that's what cost me the heat."
CJ Hobgood won the 2001 Foster's ASP World title, but his brother Damien has sat higher in the ratings in recent years.
"Equal 3rd is not bad a result, but it sucks because he was in the final in the last contest so I wanted to win," CJ Hobgood said. "We were one for one when we've gone up against each other so I wanted to win today and the opportunity was there to get my brother in the semis."
Also exiting the event with an equal 3rd result is current Foster's ASP ratings leader Mick Fanning (AUS). Fanning had Irons on the ropes for the first half of their semifinal heat, but was shut out when eventual the winner put a 9-point ride (one of several he posted this event) on the board.
Fanning has had better success during the latter part of the tour in years past and will head into the next leg as the man to beat after a solid start to the season.
"I'm stoked with the result here," Fanning said. "I will keep building from here on in. I love going to J-Bay and Trestles. The rest of the year is always really fun for me so I'm just going to keep trying to build. Andy is dropping a 33rd and you can always guarantee that he'll get a result at Pipe. It's not over after this so I'm just going to try to keep pushing and hopefully it all goes well."
The 2008 Rip Curl Search location remains a mystery, but the Foster's 45 are most definitely headed to JBay, South Africa in a week and a half.
Visit the media center on www.aspworldtour.com/2007/ripcurlpro for transcribed athlete interviews, downloadable wav files, hi-res images, heat by heat updates and more.
RIP CURL PRO SEARCH FINAL:
Final: Andy Irons (HAW) vs. Damien Hobgood (USA)
RIP CURL PRO SEARCH CHILE SEMIFINAL RESULTS:
SF 1: Andy Irons (HAW) 16.33 def. Mick Fanning (AUS) 15.33
SF 2: Damien Hobgood (USA) 13.13 def. CJ Hobgood (USA) 12.00
RIP CURL PRO SEARCH CHILE QUARTERFINAL RESULTS:
QF 1: Andy Irons (HAW) 14.67 def. Joel Parkinson (AUS) 5.43
QF 2: Mick Fanning (AUS) 12.67 def. Bobby Martinez (USA) 12.50
QF 3: CJ Hobgood (USA) 14.83 def. Dean Morrison (AUS) 10.17
QF 4: Damien Hobgood (USA) 12.17 def. Bruno Santos (BRA) 7.50
Foster's ASP World Tour Ratings after the Rip Curl Pro Search Chile
1. Mick Fanning (AUS) 3984 points
2. Damien Hobgood (USA) 3374 points
3. Andy Irons (HAW) 3189 points
4. Taj Burrow (AUS) 3086 points
5. Joel Parkinson (AUS) 3072 points
6. Kelly Slater (USA) 2808 points
7. Bede Durbidge (AUS) 2457 points
8. Kai Otton (AUS) 2301 points
9. Daniel Wills (AUS) 2210 points
10. Travis Logie (ZAF) 2210 points