| | |
| --- | --- |
| | |
Getting through Dublin is not the quickest driving experience, but once you get out you have nothing but clear open roads cutting straight through the beautiful Irish countryside.

After a short stop for supplies in Sligo we arrived at our destination with a very warm welcome from our hosts at Tyrconnel cottages, who very kindly offered to give us a tour of the all the local breaks so we could get wet as soon as possible.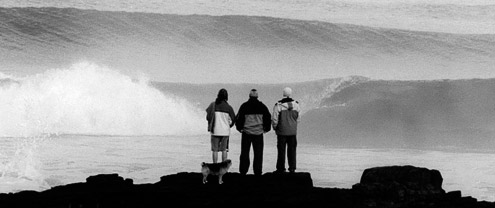 The main breaks in and around Bundoran include a cracking reef break slap bang in the middle of the town centre. A little further around the corner behind the shops you'll find the beach which is better for those surfers with slightly less experience. If you head to the north end of the town and turn left just before the KFC you'll find Tullan Strand. This is a huge stretch of beach that picks up anything going, with the best peaks being close to the cliff in front of the car park. Drive out to the north of Bundoran and you'll find Rossnowlagh which is a class beach break which picks up anything coming from the west. But just watch out as most people park on the beach so make sure you don't leave your motor there too long or when high tide strikes it might not be there when you get back. If you head south out of Bundoran you'll eventually find Streedough Strand which is a long sheltered beach break, which seems to be popular with local kite surfers and picks up anything coming from a northerly direction. In between all of these there really are countless hidden treasures just crying out to be surfed and only require small detours off the beaten track.
| | |
| --- | --- |
| | Set in the shadow of the Benbulben mountain range it was so refreshing to be welcomed as a surfer into such luxurious 4 star accommodation by Tyrconnel Holiday Homes and for such a low price. From just 10 Euros per night surfers can relax in their cottages with en suite bathrooms, fully fitted kitchens, comfortable living rooms and just 4 minutes away from the main reef break and the tastiest pint of Guinness from the very friendly Bridge Bar, where you can have a chilled evening relaxing and chatting with surfers from all over the world, as you watch the sun set on those perfect A frame barrels. |
| | |
| --- | --- |
| They may not have warm waters and hot climates, but who cares when they have such friendly locals, an abundance of public houses and more than their fair share of world class surf breaks. Whether you prefer beach, point or reef breaks, long or short boarding this enchanting destination is one that all surfers should visit once, or twice, well as often as they can really! | Russel Winter in Bundoran |