FREE FAMILY SURF LESSONS WITH TOP PRO LLEWELLYN WHITTAKER OVER AUGUST BANK HOLIDAY WEEKEND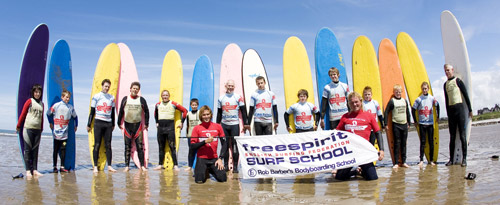 The popularity of surfing continues to grow apace and thanks to the sponsorship of the English Surfing Federation (ESF) Surf School by Freespirit, families will now be offered a unique opportunity to learn to surf for free with top pro Llewellyn Whittaker. Over the August bank holiday weekend (Sunday 26th and Monday 27th August) special family focused clinics will be available on one the UK's most famous surfing beaches – Fistral Beach in Newquay.

The clinics will be the culmination of a special tour which has seen Freespirit and the ESF take top surfing pros to a number of UK destinations including Bournemouth, Porthcawl in Wales, Bigbury in Devon and Southampton. At each stop, participants have been offered free surf lessons and the Newquay weekend will have a special family focus to enable people of all ages* to get into the waves and experience surfing together.
At Newquay, families will have a unique chance to meet Llewellyn Whittaker, one of the UK's most consistent top surfers. Llewellyn stormed through various competitions last year and his inclusion in the World Qualifying Series (WQS) five star men's open competition at the Boardmasters served to consolidate that position. Originally from South Africa, 29 year old Llewellyn is a fast, snappy, ambitious surfer. He is extremely likeable and enthusiastic and committed to encouraging British surf from the grass roots levels up, making him an ideal coach for the family pro clinic.
The Freespirit ESF surf school is one of Newquay's leading surf instruction centres and offers the best value for money and top safety standards in a laid back, fun, safe environment and atmosphere. The ESF is particularly special because all profits from the surf school, generated from the lessons sales, are ploughed straight back into supporting promising English surfers and providing the framework of support that they need to develop as the next generation of top athletes.
Rob Barber, head coach at the Freespirit ESF Surf School says, "We're really stoked that the Freespirit backing of the ESF surf school has made it possible for us to be running these clinics. We have had such a positive response so far this summer that we think the clinic in Newquay will be the icing on the cake. As a result of the Freespirit sponsorship deal across all their stores we're expecting that families will come from all over the country to attend the pro clinics. The ESF is all about getting as many people as possible surfing and it's great to be linking our surf school work with the English team and making it possible for the pros to pass on their knowledge and enthusiasm to surfers of all ages and ability."
Adam Smith, Marketing Manager of Freespirit says, "Surfing is such a fun sport and a perfect way for the whole family to keep fit. We wanted to find a way of introducing more and more people to this exhilarating sport and our ESF Pro Clinic Tour offers people the unique opportunity to sign up to the sessions for free so that cost isn't a barrier to them learning. Llewellyn is a really interesting guy and I'm sure that surfers of all abilities will be keen to learn from him."
Llewellyn Whittaker says, "I love introducing people to surfing for the first time so the Freespirit ESF pro-clinics are perfect. The family clinics are a great idea because surfing is an ideal way to spend time together and enjoy the outdoors. It's also really nice that I can give something back to the ESF as an organisation because they have helped me since I moved to the UK."
To book your space on a clinic access www.englishsurfschool.com, call 01637 879571 or call into the school at the Cribber Green Rooms, 30 Headland Road, Newquay- get in there fast as places are already being booked!
The clinics will run to the following format on both days:
• 9am – 11:30am Complete beginners Learn to Surf with the pro – (30 people)
• Lunch break and chill with the pro
• 3:00pm – 5:30pm Complete beginners Learn to Surf with the pro – (30 people)
* lessons available for people aged over 8 years old that can easily swim 50 metres