Sunny skies, a favourable wind and clean 2ft waves welcomed the Rip Curl Boardmasters to Newquay's Fistral Beach this morning for Day 3 of the week-long surf and music festival. Although the swell size did drop overnight, competition did start at 8am this morning – with event organisers running the final eight heats of Round 2.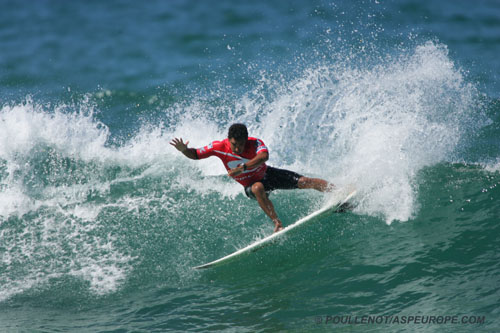 Tour veteran and 2002 ISA World Champion runner-up Frédéric Robin (Reu) handled the small waves well this morning, unleashing his quick back-hand attack to defeat Nathan Carroll (HAW), Michael Marjanovic (AUS) and Norman Landa (EUK) in Heat 19. Robin recorded a two-wave combined heat score of 13.50 points out of 20 to book himself a spot in Round 3.

Another surfer advancing through to Round 3 this morning was Brian Toth (PRI), who was lucky to even make the event on time after a three days travel mission from Japan. Toth actually missed his heat yesterday, because he was still in transit, but was luckily awarded a spot today as the event's "first alternate" when Luis Rodriguez withdrew.
Despite jetlag and travel stress, the goofy-footer advanced through his grabbed second place to qualify.
"Everything's been against me for the last three days and I got here knowing I had missed my heat," explained a jetlagged and travel stressed Toth. "Luckily I was here early this morning and as first alternate got the first empty spot to jump in the event and get a go."
"I had a coffee after my early warm-up surf and was waiting with my wetsuit on to make sure I wasn't going to miss anything else. I had a quick word with my coach before paddling out and then just gave it all I could to get this qualification. As soon as I found that 7.50-point ride I felt a bit more relaxed and confident, then ended the heat well."
Australian Adam Melling and Brazilian Pedro Henrique were the two standout surfers of the morning. Melling faced Ryan Campbell (AUS), Clinton Gravet (ZAF) and Wesley de Souza (USA) in Heat 21, but easily won through to earn a spot in the first money round.
Henrique surfed the final heat of the morning, posting a near-perfect 9.70-point ride on his way to the event's highest heat score of 18.20 points out of 20. The Brazilian will face Foster's ASP World Tour surfer Shaun Cansdell (AUS), Romain Lauhlhe (FRA) and Dylan Graves (PRI) in Heat 24 of Round 3.
Advancing through the final heat of the morning with Henrique was Abdel El Harim (MAR), who is making his return to European WQS events after knee injury during the past seven months. The sole Moroccan representative on the ASP World Qualifying Series is returning to form and did enough to secure second position.
"My knee injury has kept me out of the water for seven months and it's been tough watching all the Europeans ripping around the world," revealed Abdel. "It's my fourth event back on a board and I will just go slowly as I have to get rid of my last fears with my knee. Next year I will come back strong and I am looking forward to getting back on tour."
Round 3 of the Rip Curl Boardmasters will see the event's top seeded surfers hit the water for the first time. Former ASP World No. 8 Nathan Hedge will surf in Heat 2 and was onsite early expecting to compete today.
"I thought I would surf today for sure, but apparently not now," said Hedge. "The conditions are out of our hands and that's what makes pro surfing events so difficult some times. We need to be on call all the time and ready every day."
"Surfing contests are not like tennis events or football, where the game times are scheduled and everyone know exactly what time the game starts… Sometimes we have to deal with changes at the last minute and other times we can wait around all day waiting for conditions to improve."
Hedge is hopeful of a strong result this week and is looking to continue his climb up the WQS ratings. There are none more passionate about the Foster's ASP World Tour than Hedge and the Australian is very keen to earn his place back with the world's elite on the Dream Tour.
"I'm enjoying being in the water at the moment and I have some good small wave boards with me, but everyone is in with a chance so I'll just take it as it comes."
Competitors and event organisers will meet onsite at Fistral Beach tomorrow morning at 7am, hopeful of starting Round 3 at 8am in good waves.
For more information and on demand video, please log on to: www.ripcurlboardmasters.com